"A garden is a grand teacher. It teaches patience and careful watchfulness; it teaches industry and thrift; above all it teaches entire trust."

Gertrude Jekyll, British Horticulturist
Are you searching for garden-themed clipart images to share with your classroom or children? This post is perfect for you! Below you'll find a few practical planting tips, reasons why kids should dig into some good gardening fun and 15 clip art images for those with green thumbs. So, what are you waiting for? Find what you're looking for below!
3 Easy Tips for Beginner Gardeners
Establish and maintain a planting journal. Record what crops and/or flower species you've planted, where and the method you used. Keeping track of such things will save you loads of time when the next season rolls around.
Use compost to enrich and amend the soil in your garden. Research the best store-bought compost brands for your area and soil type. Or create your own compost pile and add organic matter, like mulch and food scraps, to it!
Test your soil for contaminants, especially if your garden is near an urban area or city center. Testing soil is a safety precaution that you can take to ensure your food does not contain contaminants such as heavy metals; like lead or cadmium, for instance.
5 Reasons Why Kids Should Garden
Gardening can encourage healthy eating. One of the many joys of gardening is getting the opportunity to pick what you grow. Do you want to teach your students or children the value of healthy eating? Teach them to garden! They'll establish a positive association with healthy food, learn where food comes from and possibly get a chance to bite into a fresh, ripe fruit or vegetable that they grew with their own hands. What could be better than that?
Sowing seeds can help children learn how to focus and relax. According to a study published in the American Journal of Public Health, gardening can assist most children with their cognitive development. For children with attention deficient hyperactivity disorder (ADHD), specifically, gardening can be a stress-relieving activity that promotes peace and improves alertness.
Gardening can be a STEM or STEAM activity and encourage critical thinking. Gardening takes a lot of planning, preparation, and hard work. When children are involved, gardening can present a wonderful learning opportunity for them to engage in multi-sensory inquiry. From measuring plots of land, to tracking the sunlight throughout the day and sorting seeds to sow; gardening certainly involves a bit of science, technology, engineering and math. Looking for more of STEAM activity instead of STEM? Add artistic elements to green-thumbed activities by encouraging kids to create their own garden markers or paint their own pavers.
Planting a garden can build one's confidence. Children grow in a myriad of ways – with each person being a unique individual with unlimited potential. However, confidence is not always so easy to come by as one develops through their formative years. The good news is that gardening can help your students or little ones develop a sense of confidence and accomplishment. The process of sowing a seed, caring for a seedling, watering a plant and possibly harvesting it; can work wonders for those struggling with their self-esteem.
Gardening can provide a decent workout. Exercise is important but it can be rather difficult to convince kids to move their bodies these days. However planting, sowing, tilling and weeding can help get kids moving and away from their phone screens for a little while.
15 Garden-Themed Clipart Vectors
"Trees and plants always look like the people they live with, somehow."

Zora Neale Hurston, African-American Author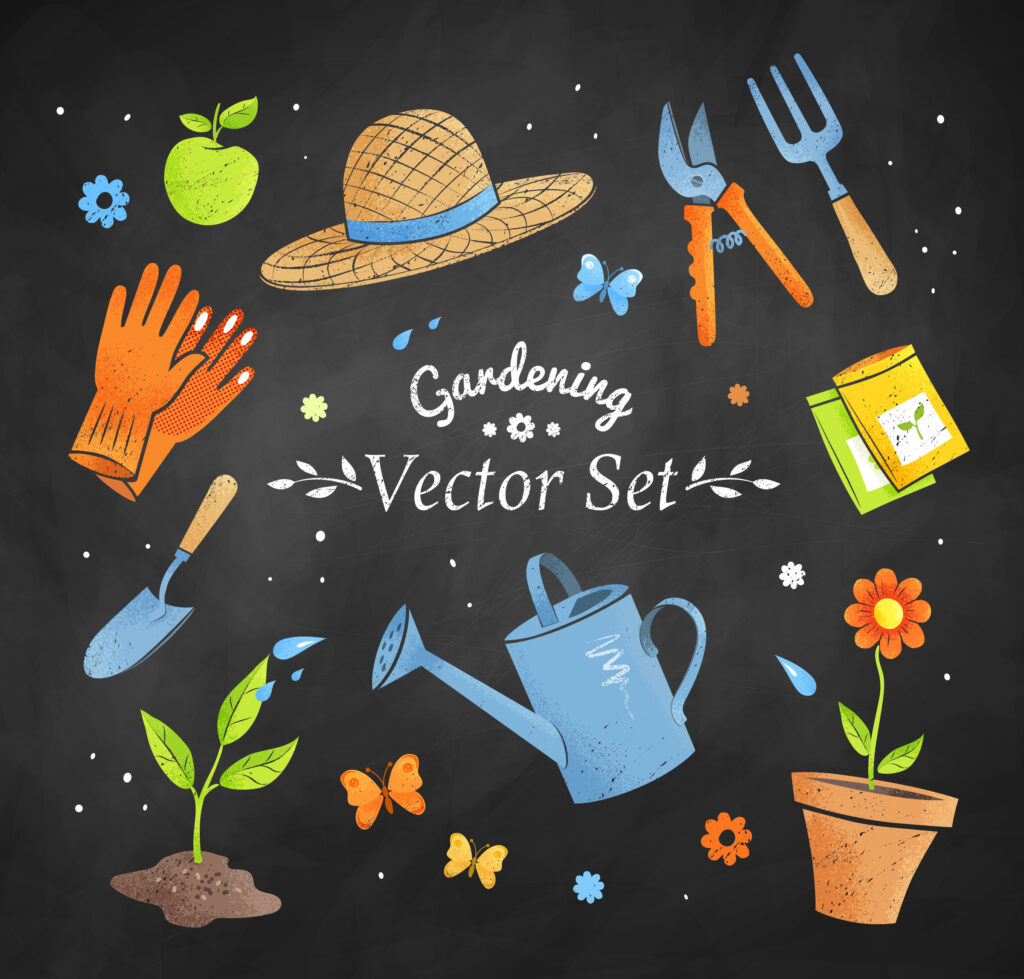 Searching for a simple but colorful set of vector illustrations that are all about gardening? Look no further than this vector set that includes potted flowers, butterflies, gardening gloves, a sun hat, a watering can, and more!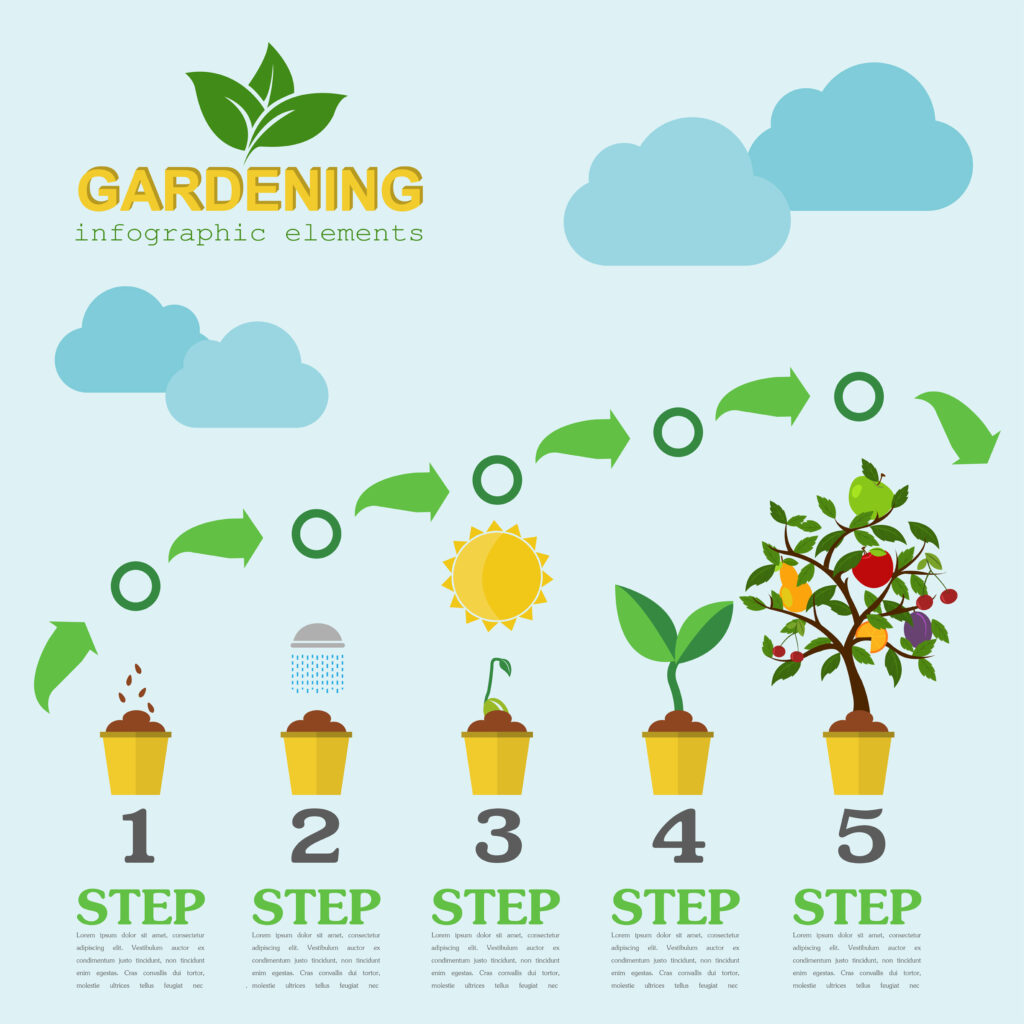 Are you teaching your students or children about how plants grow? Use this vector infographic template to illustrate how plants develop over time with proper care.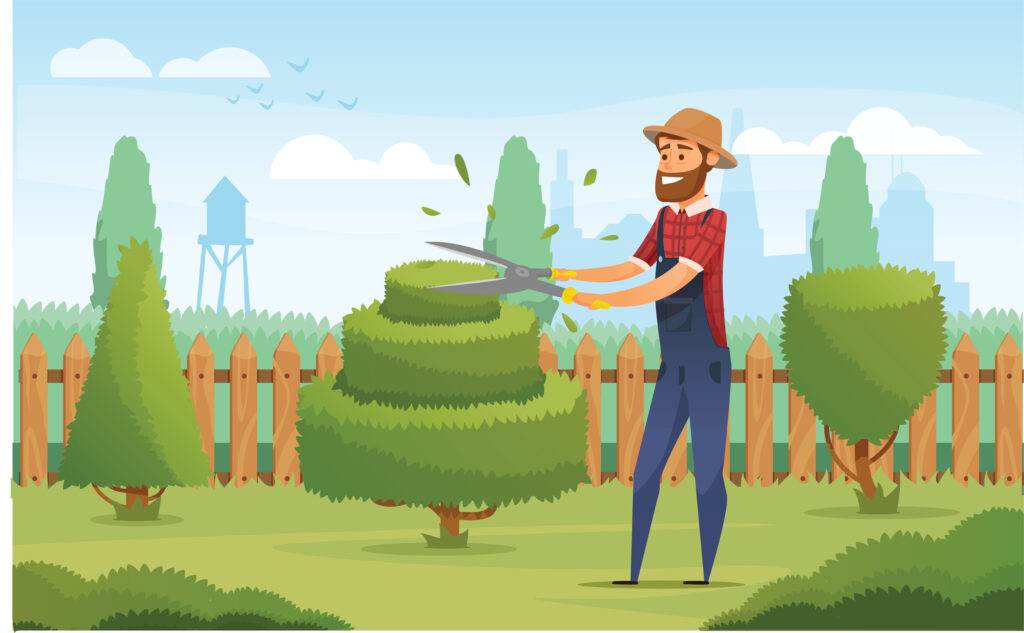 Teaching a lesson on landscape design or offering your horticultural services to the community? This vivid vector illustration of a gardener trimming hedges with sharp yellow-handled shears can be used for a variety of creative, educational, or business projects.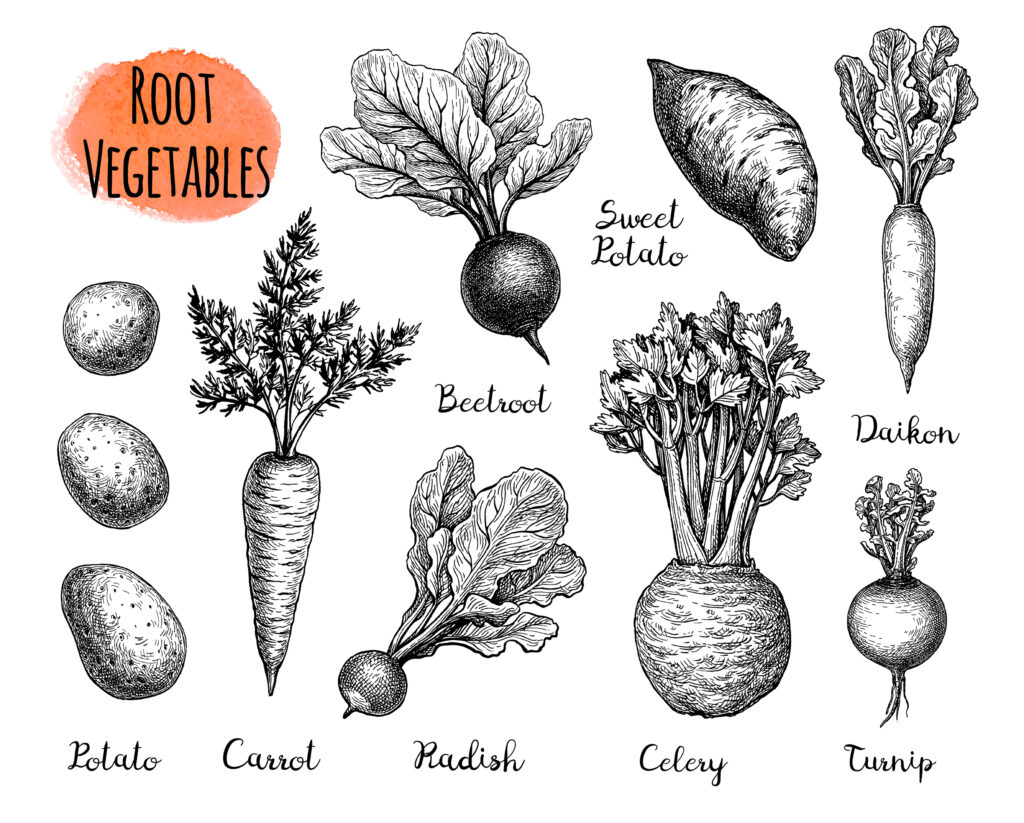 Discussing what one can grow in a vegetable garden? This ink sketch style vector set of root vegetables can be used as decor, in lesson plans, presentations, and more!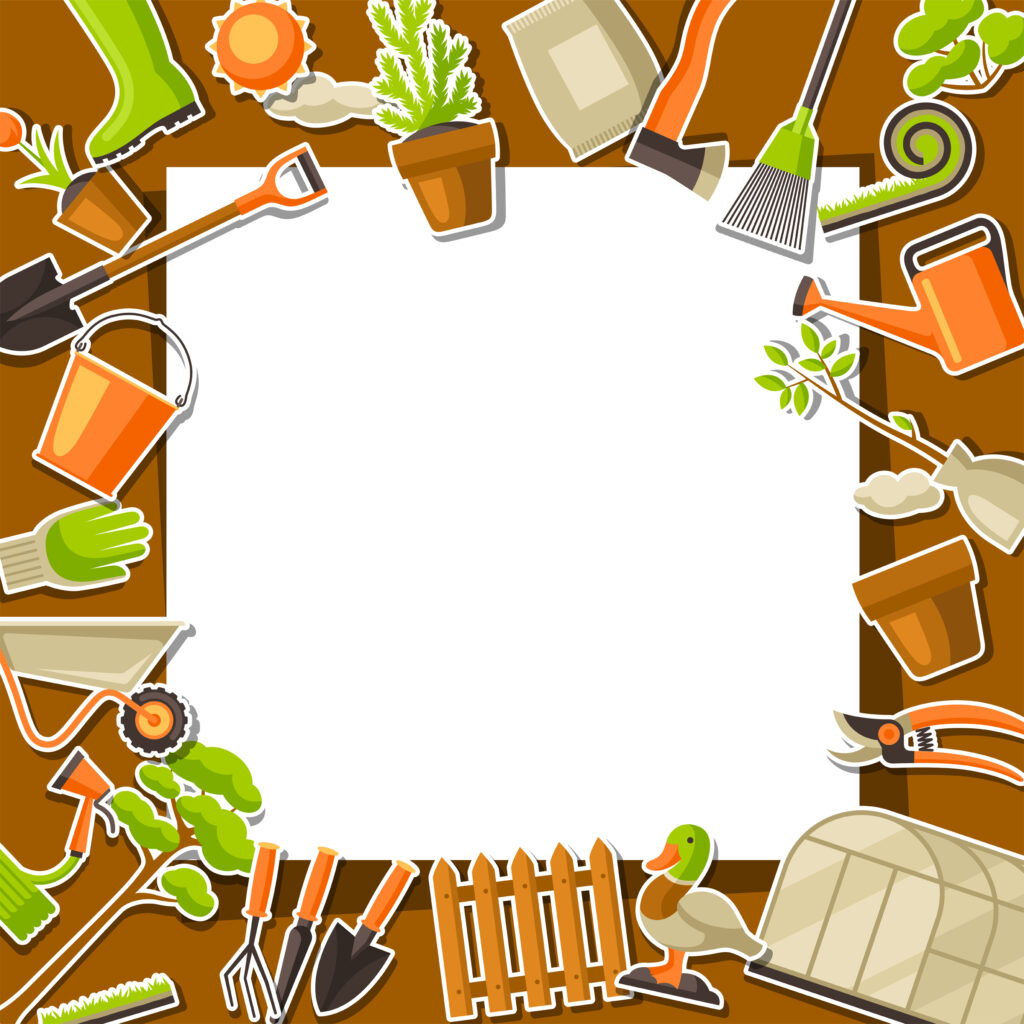 Looking for a bordered background with garden-themed icons? You've found it! This background has garden tools such as wheelbarrows, gloves, sheers, and other objects like greenhouses, planters, and fence posts.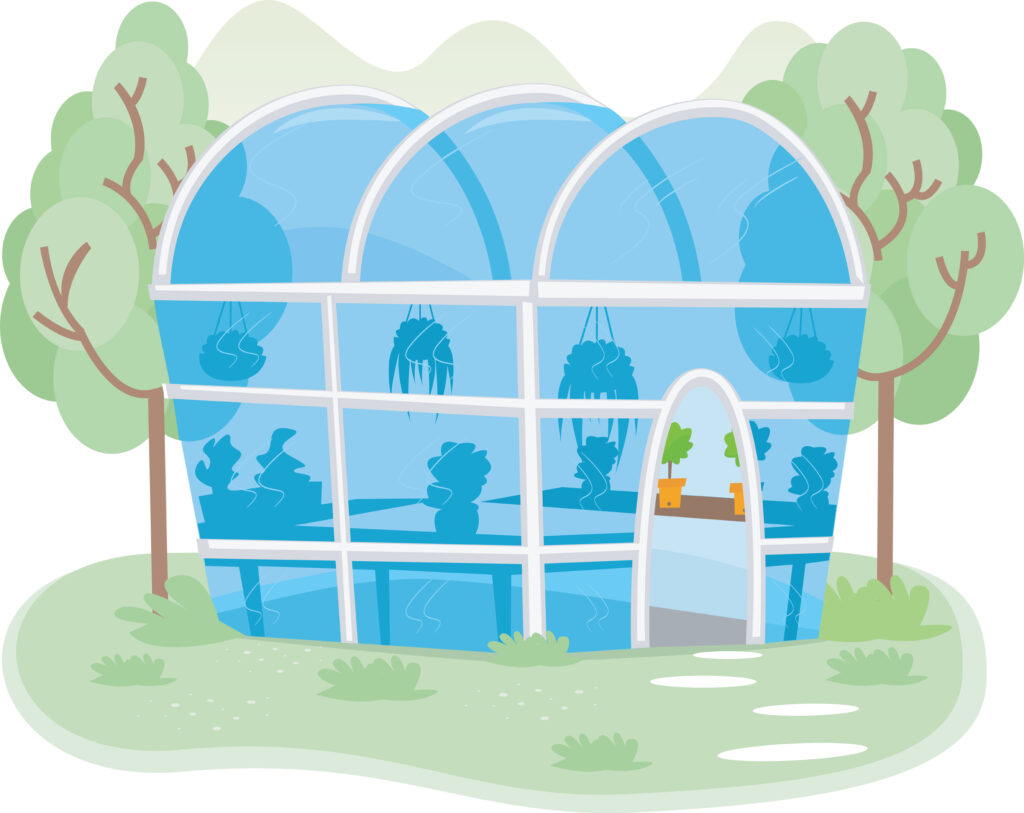 Perhaps you don't garden in the traditional sense but have a greenhouse instead – and that's okay! Gardening can happen in many forms, like in this illustration of a small greenhouse with plants growing in orange terracotta pots.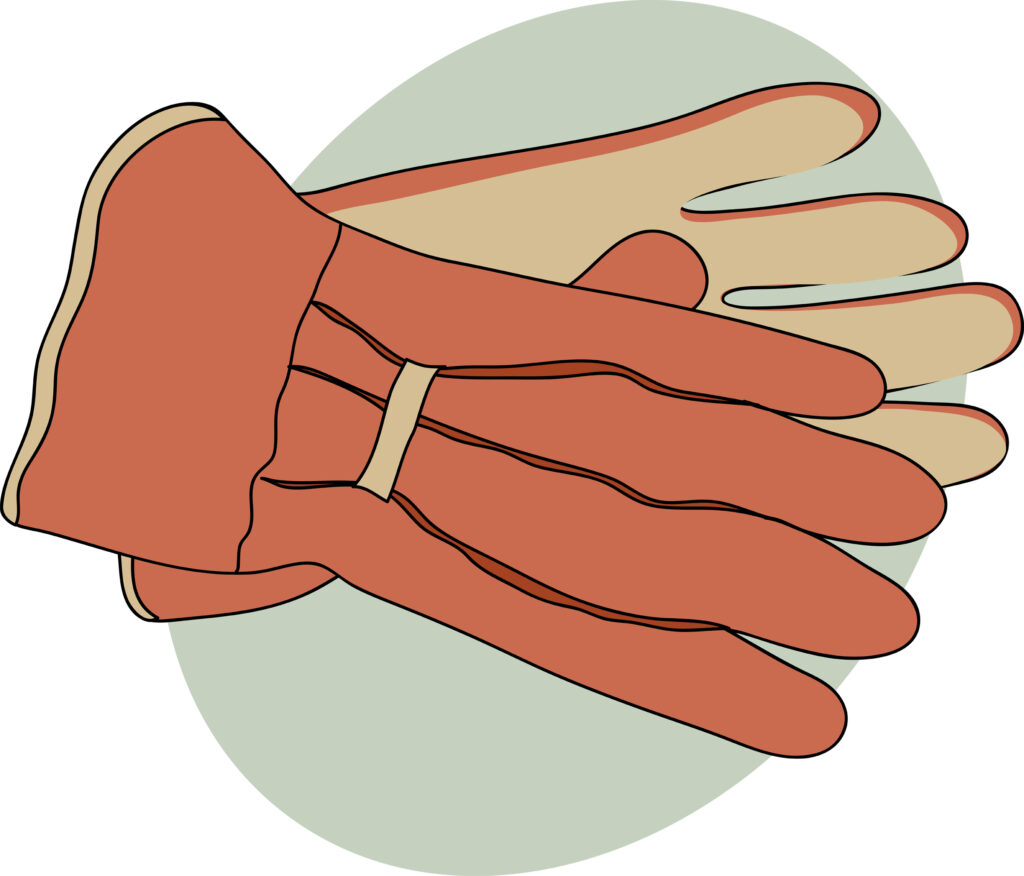 Searching for a simple icon to represent the wide range of activities that can take place in a garden or green space? This clipart image of gardening gloves in tan and orange hues set against a mint green background can be used for a plethora of projects.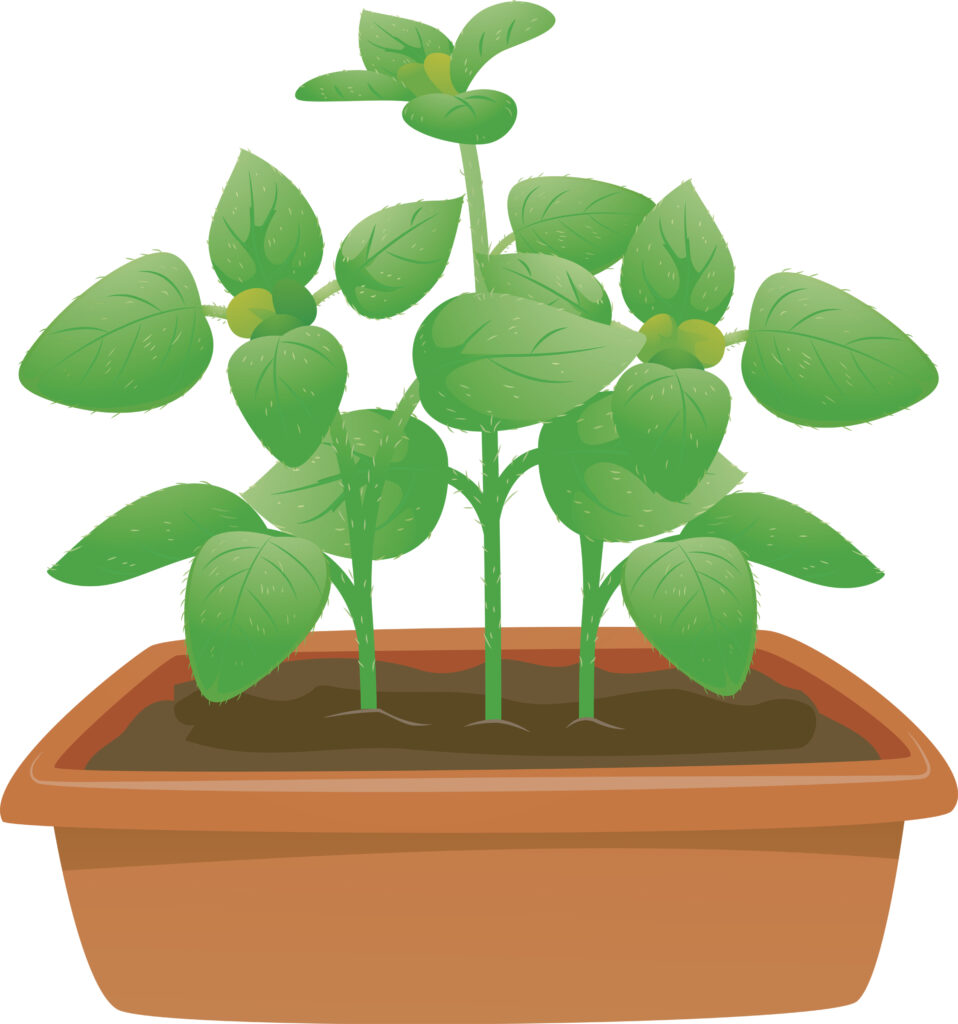 Do you grow plants in pots? Perhaps you have raised garden beds or a small windowsill garden box on your apartment balcony – either way is fine, the important thing is that you're growing stuff! Are you searching for images of potted plants? This vector illustration of a leafy green oregano plant in a wide planter box can be used for a variety of things.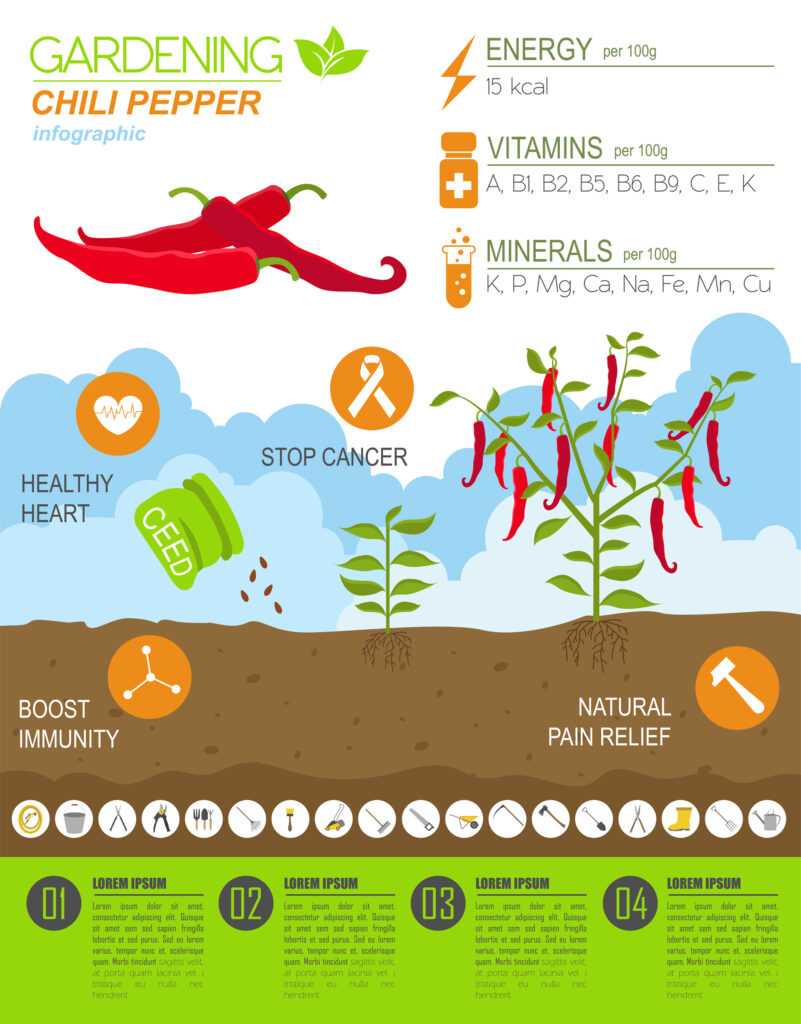 Do you grow vegetables in your garden? What about chili peppers, specifically? If you grow them or you are interested in how they grow and the benefits of consuming them; this infographic template is perfect for you!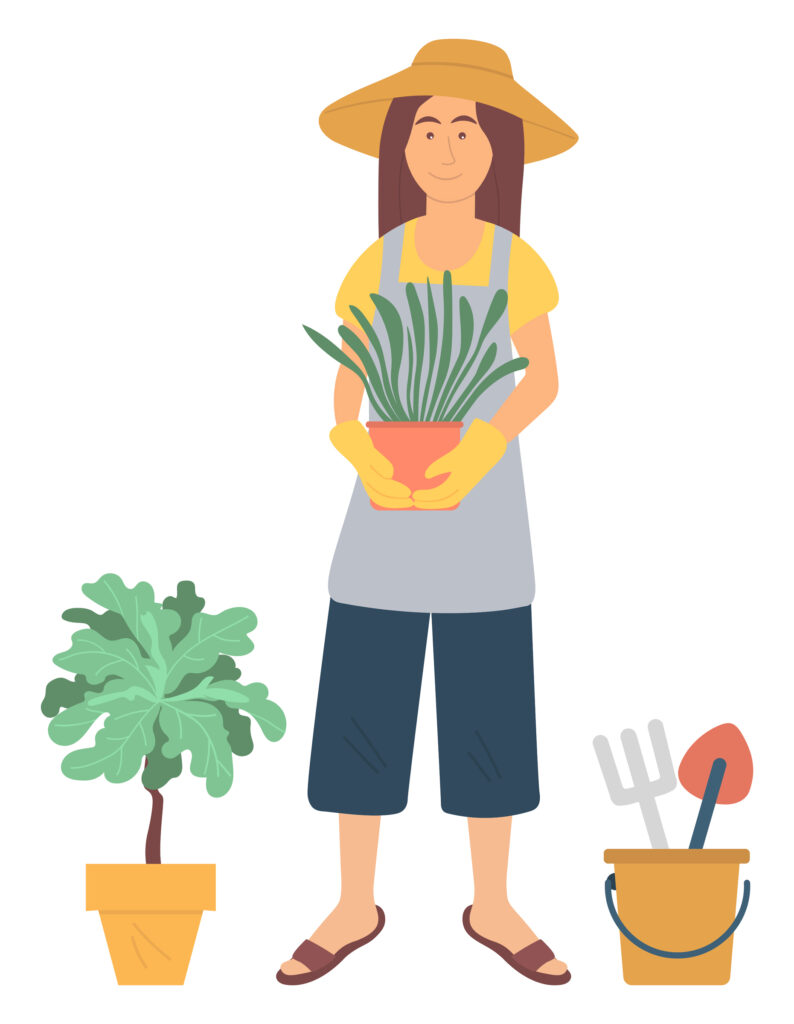 For many across the world, gardening is an enjoyable pastime. Do you share this sentiment? If so, download this vector illustration of a woman gardener holding a potted plant and wearing a sun hat and yellow gardening gloves.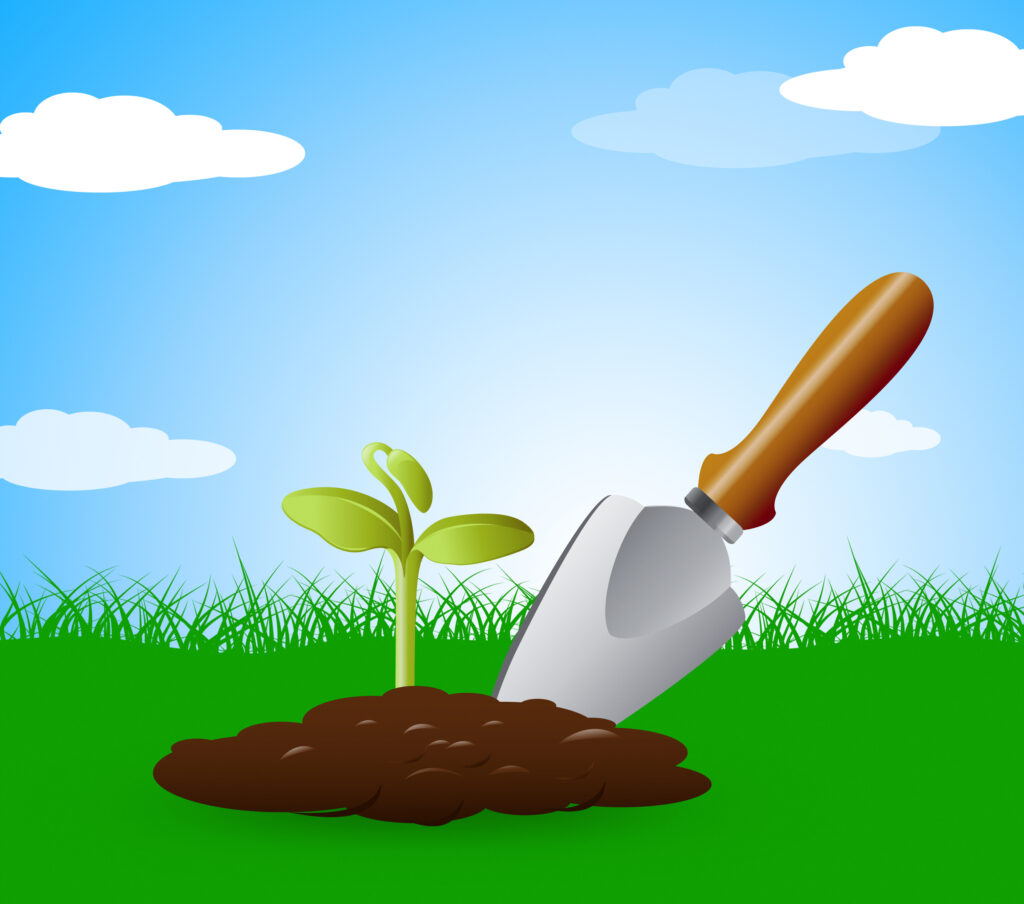 Looking to dig deep into gardening and all that goes into planting flowers, crops, and trees? This 3D vector illustration of a trowel digging into the soil could come in handy.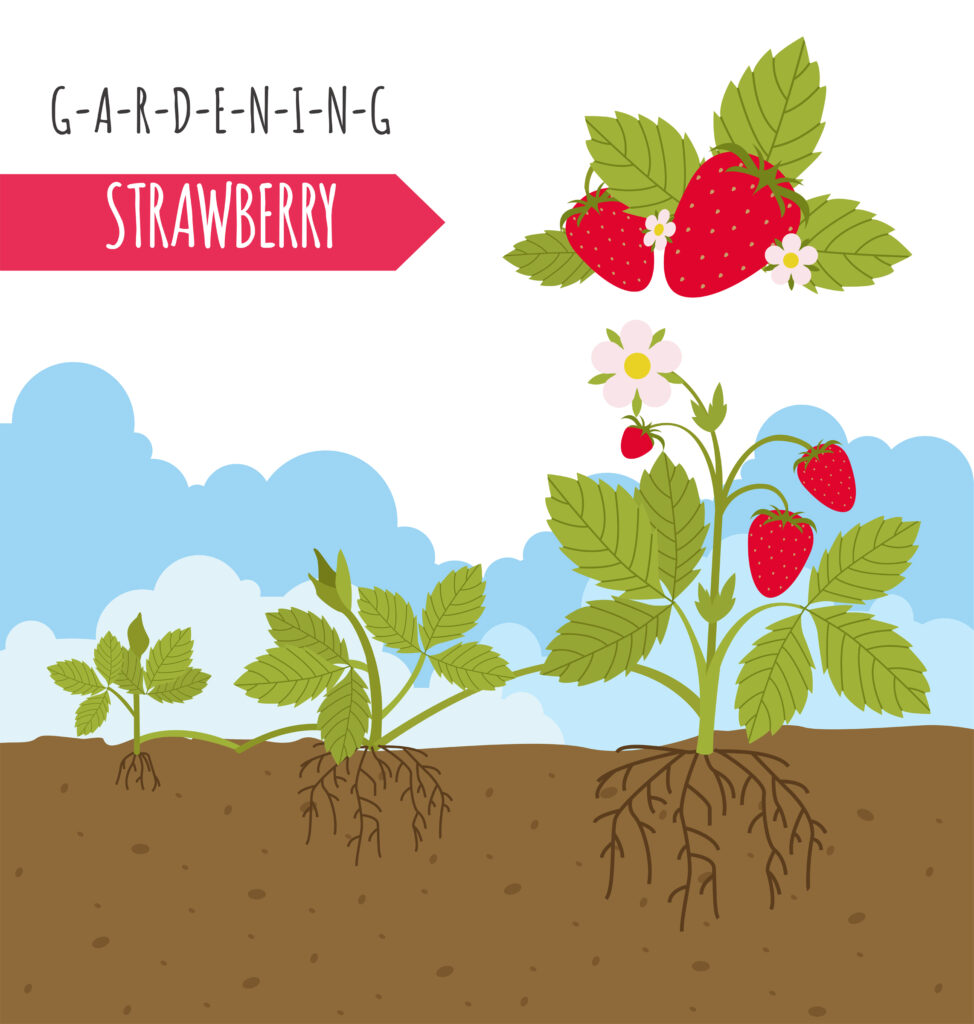 Do you grow fields of strawberries? Are you teaching students about the phases strawberries to have to grow through before they produce sweet red fruits? This infographic on gardening strawberries can be used for creative projects, teaching lessons, and everything in between.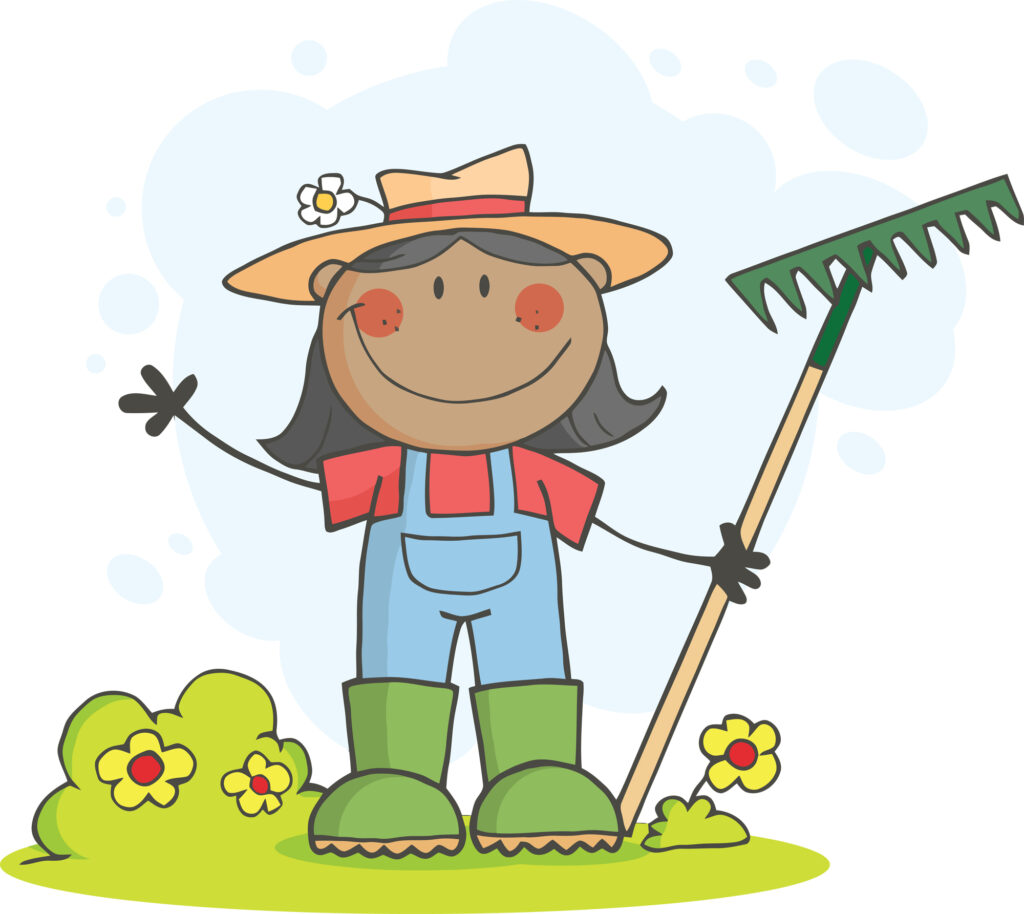 Looking for kid-friendly gardening illustrations? Look no further. This drawing of a young child wearing a sun hat, rain boots, and holding a rake.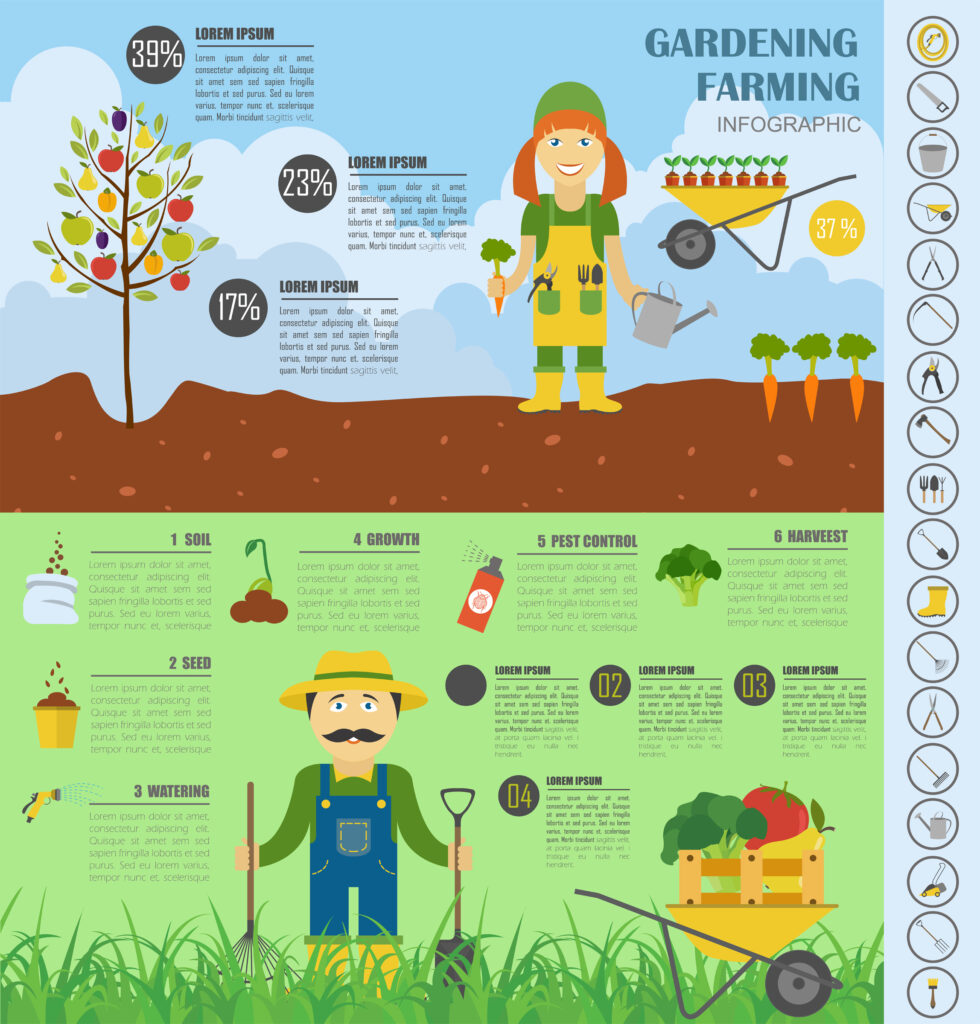 Looking to share information on gardening and farming? You need to download this infographic template that provides ample space and vector icons to get your point across.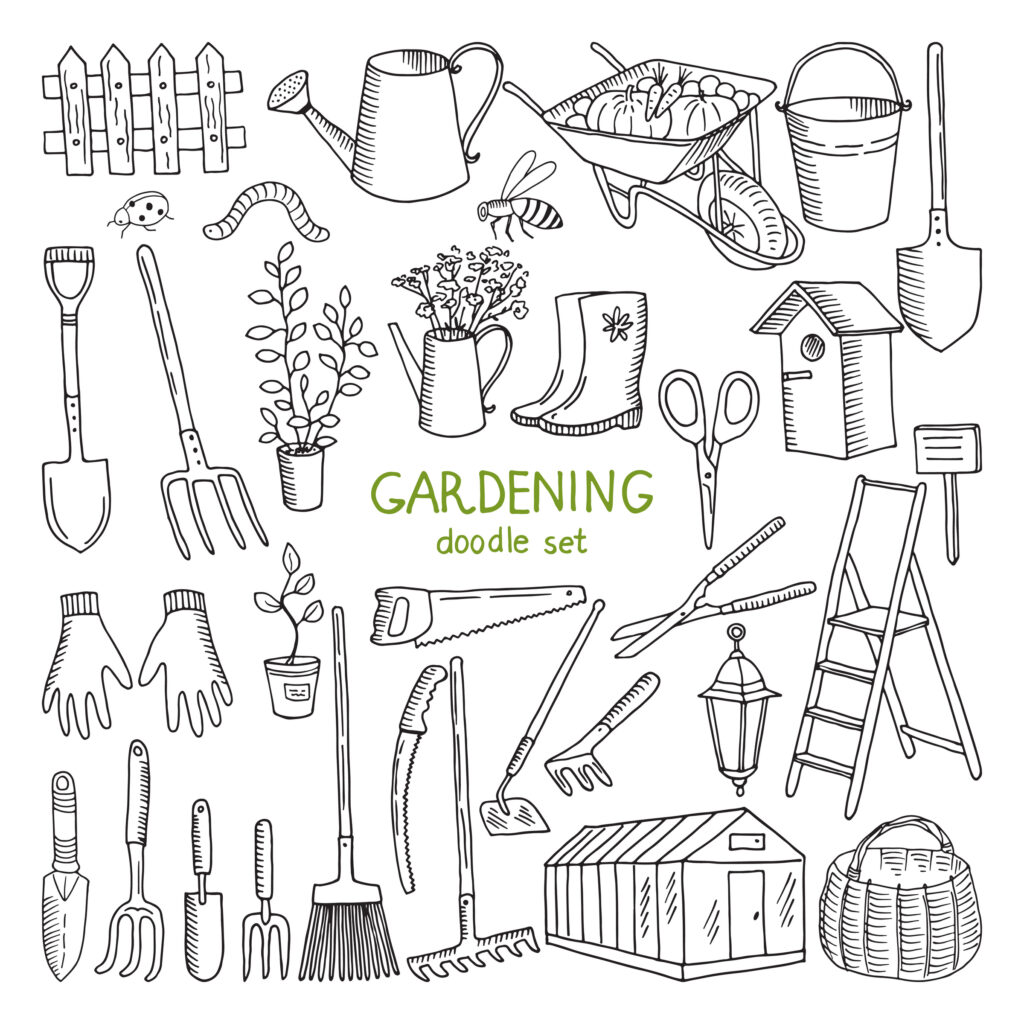 Looking for a simplistic set of hand-drawn vector illustrations? This doodle set includes rain boots, a greenhouse, baskets, lanterns, shovels, flowers, and more!