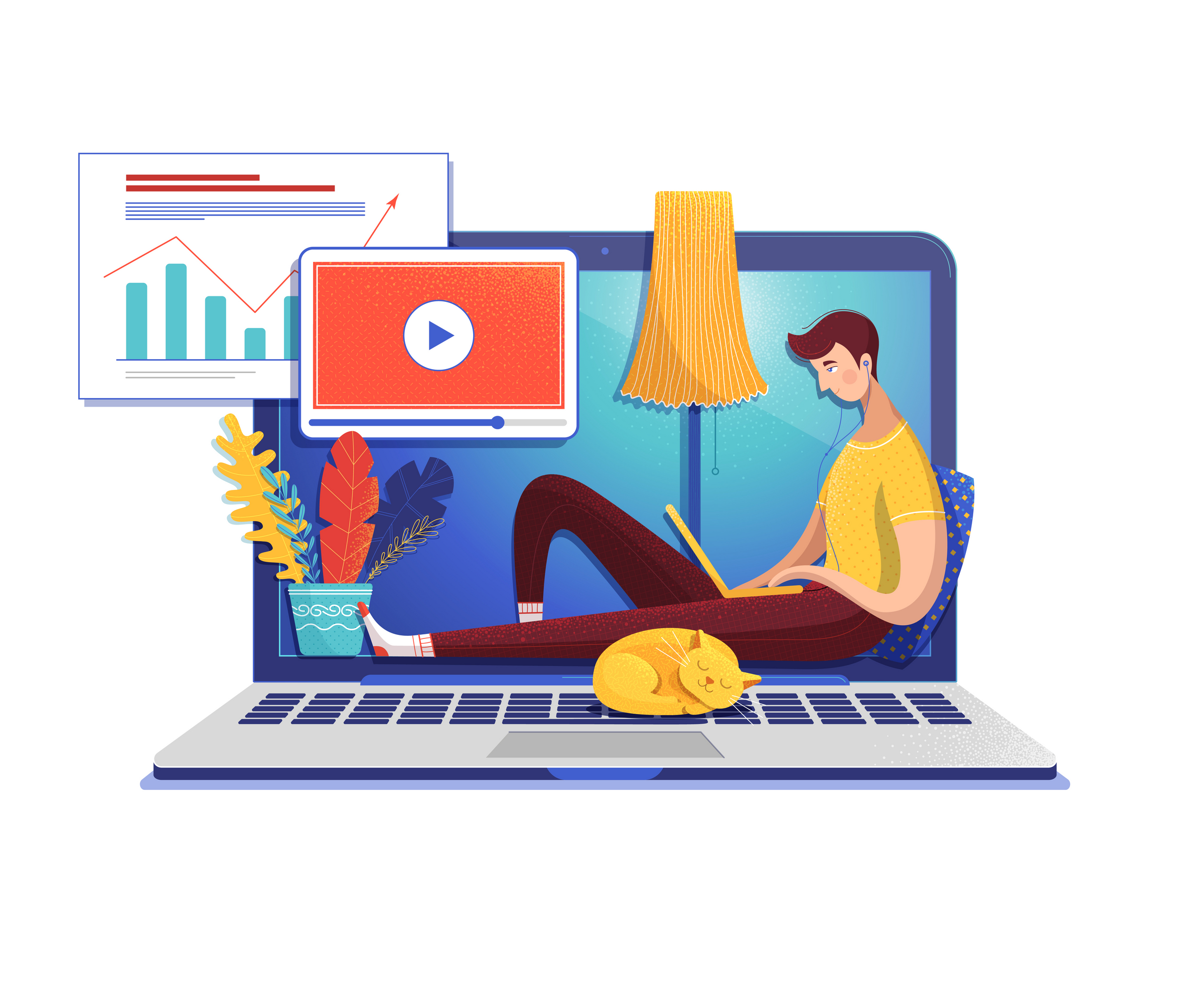 In these times, distance learning is quite the norm. However, finding high-quality vector illustrations that represent the many facets of virtual learning can be quite a challenge. Luckily, the School Edition of Clipart is packed full of resources to brighten up your cyber classroom!
So, what are you waiting for? Dive into this post – it's chock full of e-learning tips for students and educators! Not to mention, we've curated a list of 25 high-quality works of Clipart. Keep scrolling!
5 Virtual Learning Tips for Students
Eat breakfast and try to stay hydrated throughout the school day.
Establish a daily routine so that you can stay on top of tasks.
Communicate with your teacher whenever you need clarity.
Try to carve out a dedicated workspace if possible.
Wear noise-canceling headphones to stay focused.
5 E-Learning Tips for Teachers
Use online resources that are kid-friendly and age-appropriate
Be available. Create virtual office hours to be more accessible.
Give clear and concise instructions for class assignments.
Provide thorough feedback promptly whenever possible.
Leave time for questions at the end of virtual lessons.
25 Distance Learning Clipart Icons & Illustrations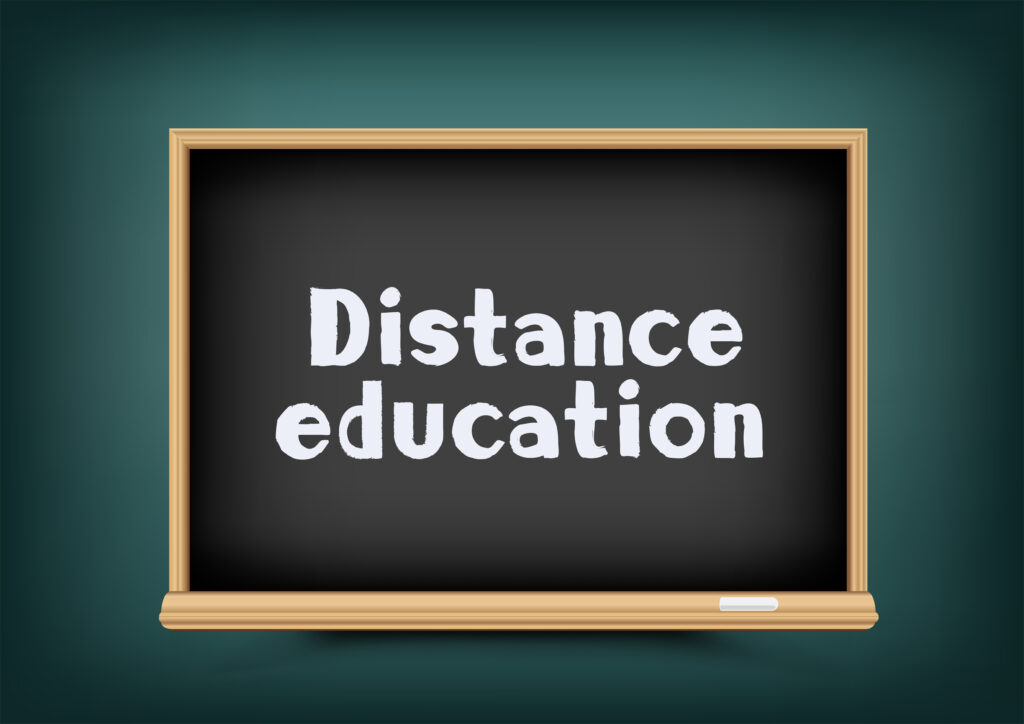 Searching for a simple way to express your distance education offerings to your audience? This minimalistic image of a digital blackboard with chalk lettering just might do the trick.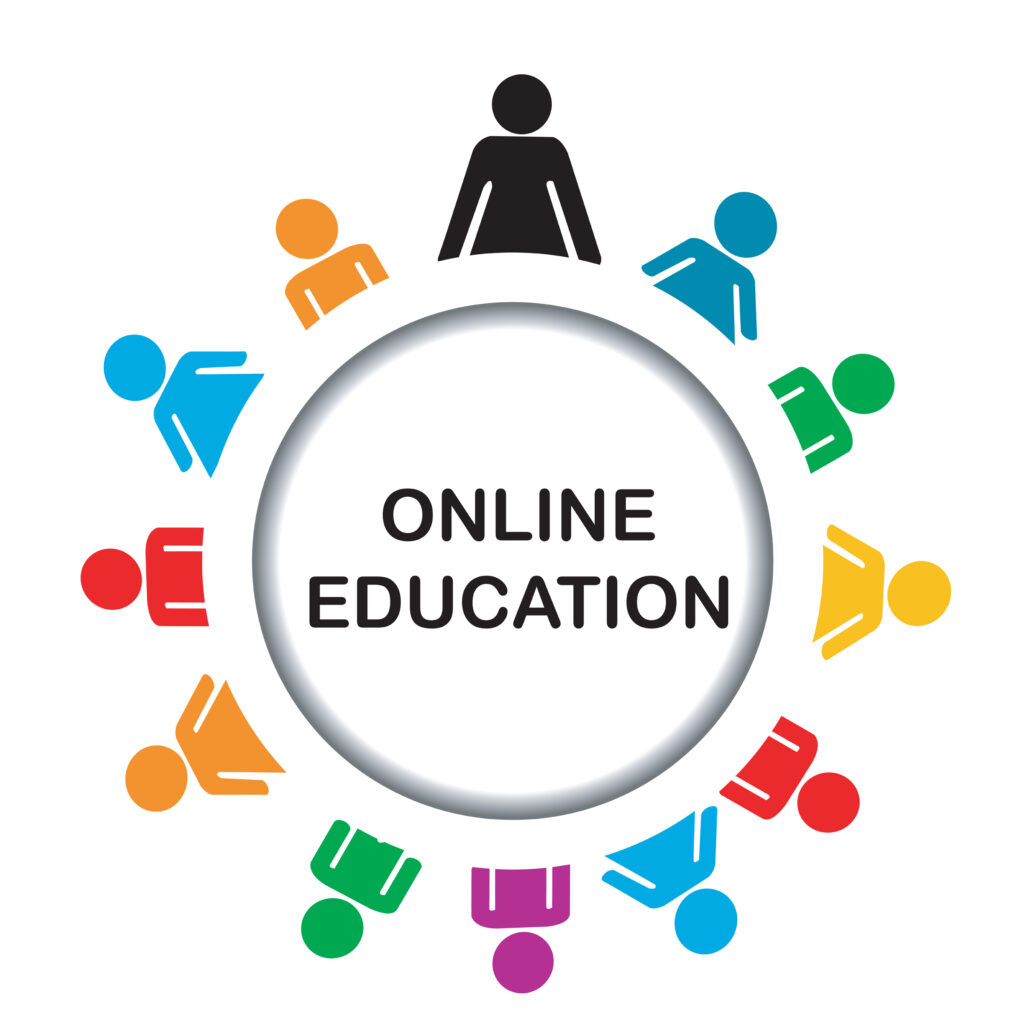 Online classes can make education more accessible to people from all walks of life. Need a graphic to represent the diversity an online classroom can have? Download this one!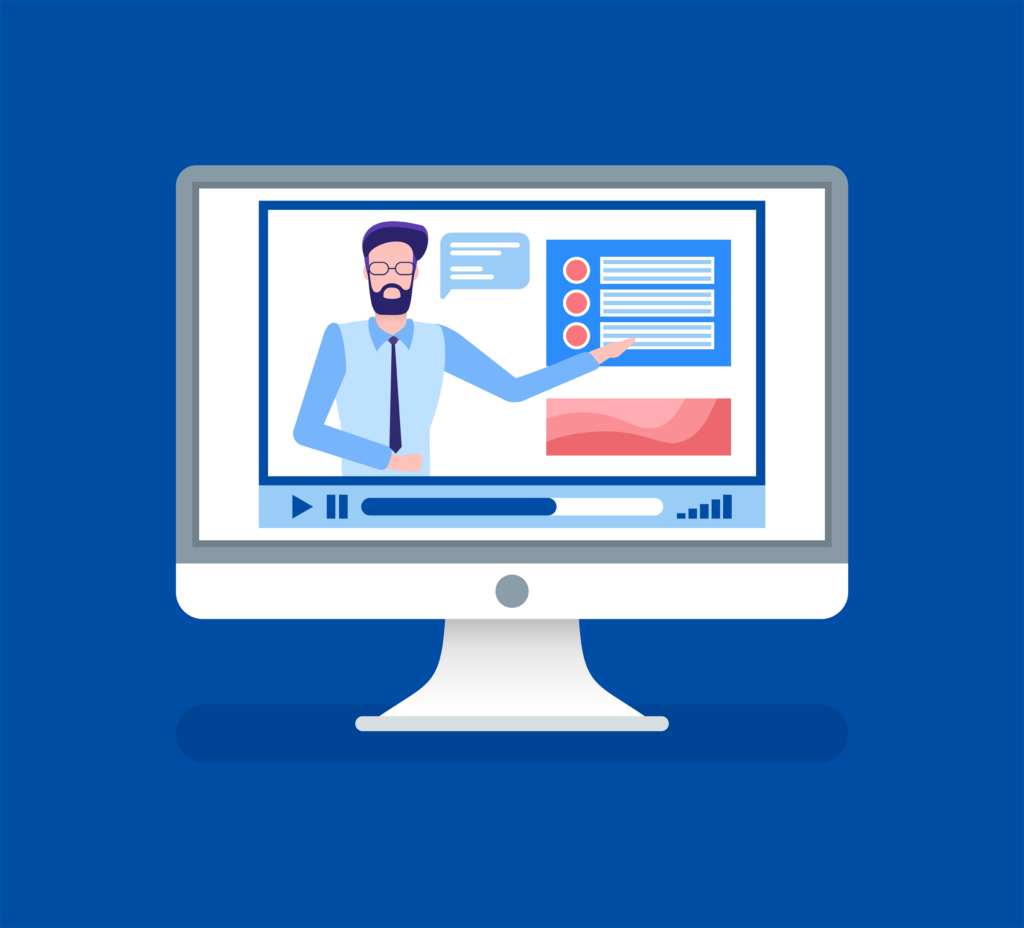 Do you teach online classes? Do you offer tutoring services to virtual students across the world? Consider using this isolated icon of an online instructor giving a lecture for your next creative project.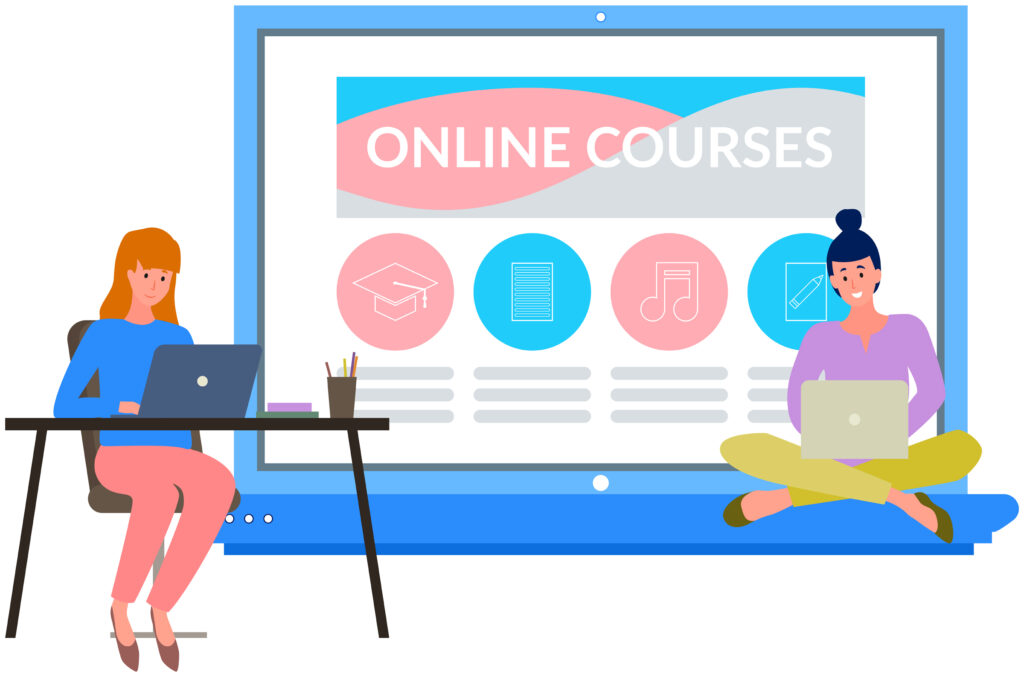 Offering online classes? Get students excited by promoting your course offering using high-quality Clipart – like this vector graphic that shows two students engaging in a virtual learning experience.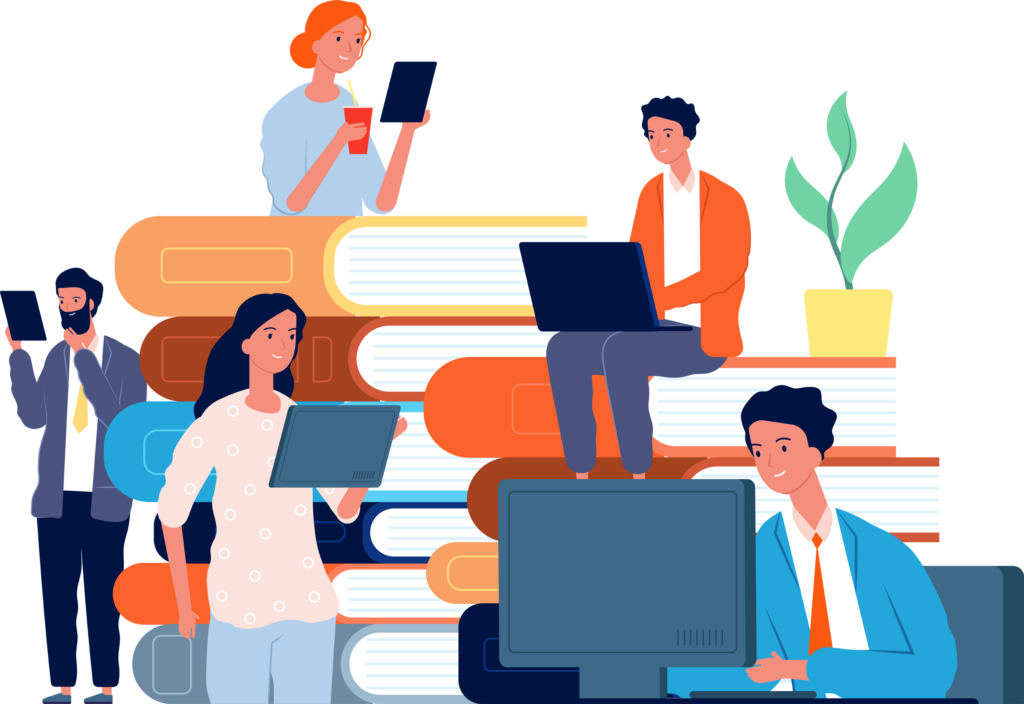 Distance learning can be an opportunity to immerse yourself in a subject and learn at your own pace. Are you searching for a vector icon that shows student-driven education? This graphic depicting students perched on books and reading from various electronic devices just might do the trick!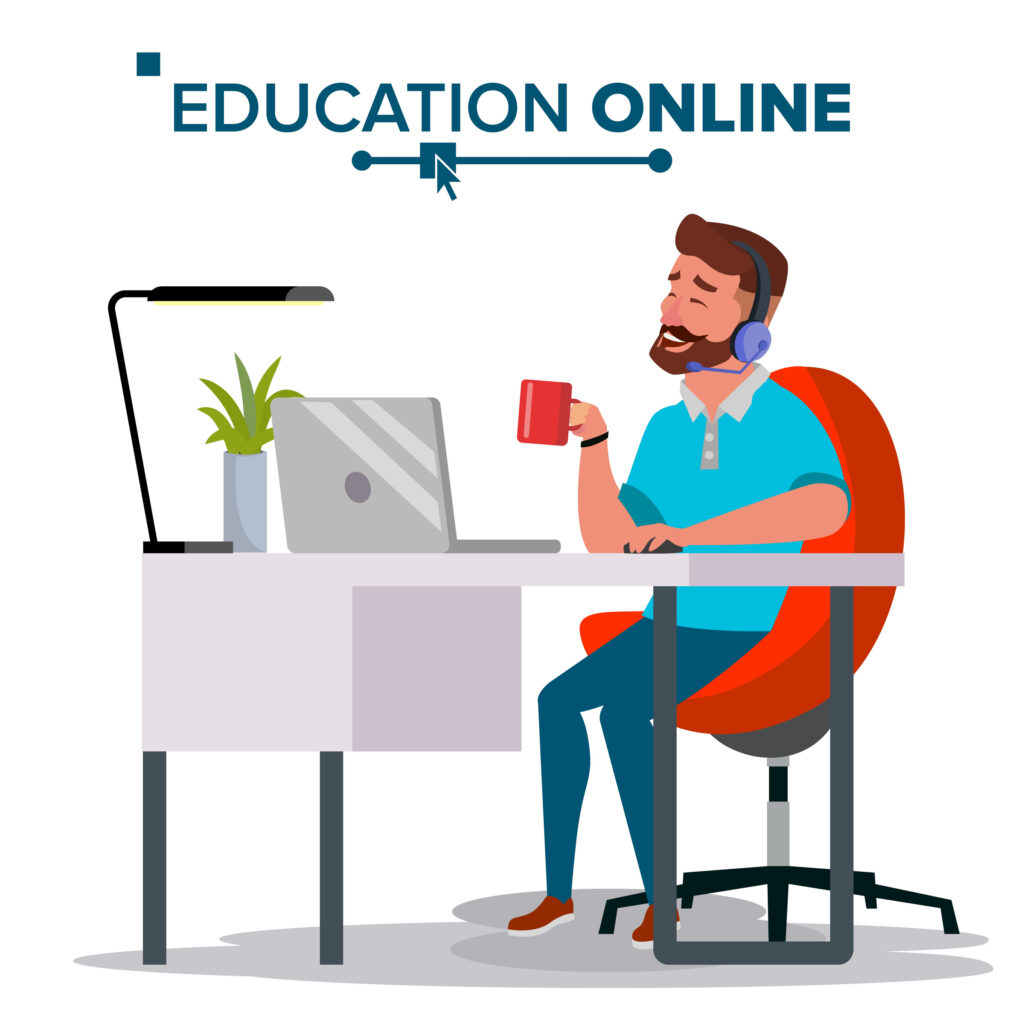 These days, most things can be accomplished from the comfort of one's couch – including working and learning. Need a vector illustration showing a student engaged in e-learning? You've found one! Download this graphic of a person wearing headphones and drinking coffee while learning virtually.
If you're looking for a cute cartoony graphic to send to graduates from online education programs, your search is over! This vector graphic showing a Boston Terrier dog wearing a graduation cap and sitting behind a computer screen is too adorable to pass up.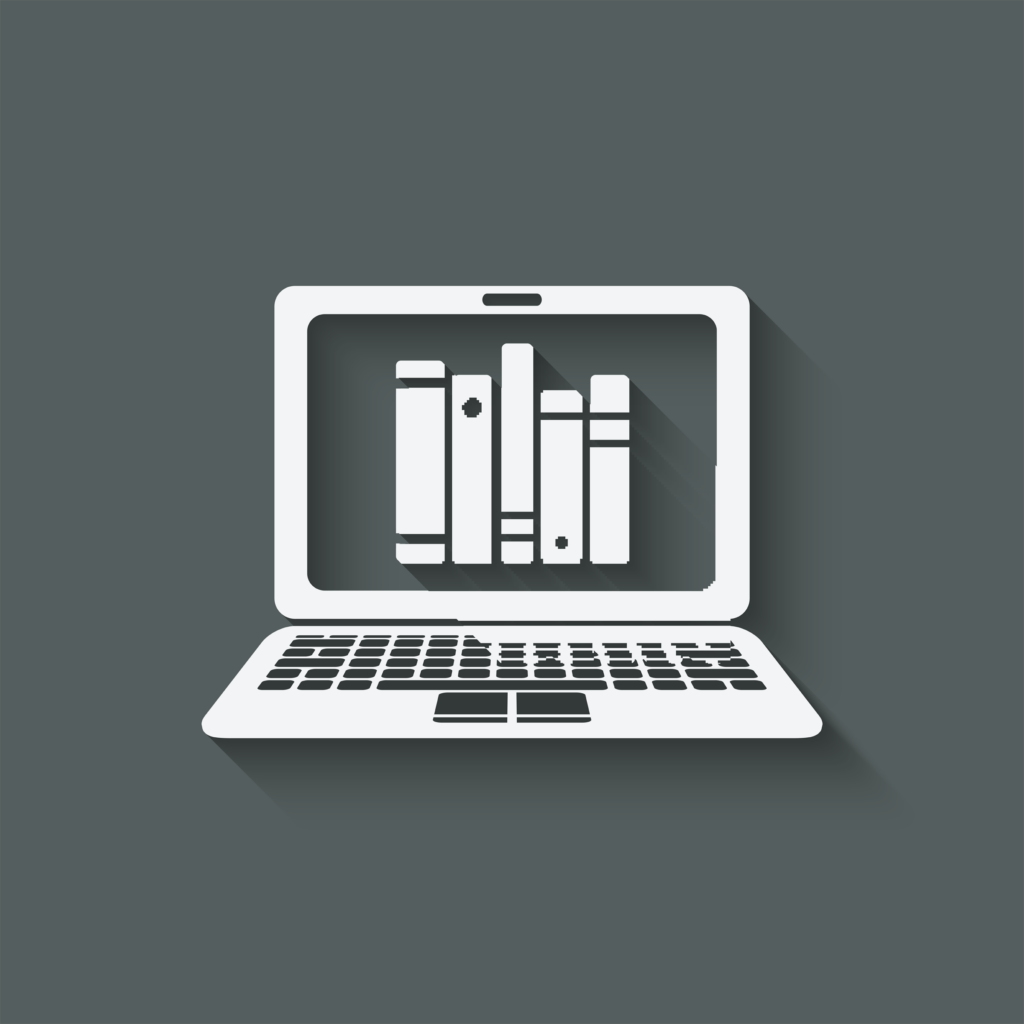 Does your school or education center offer digital learning resources to your virtual students? If so, this simplistic graphic showing books on a computer screen can help you, and alert students, that those additional resources are available.
Searching for isometric icons that represent online education? Try this vector illustration that shows a student receiving knowledge from a smartphone.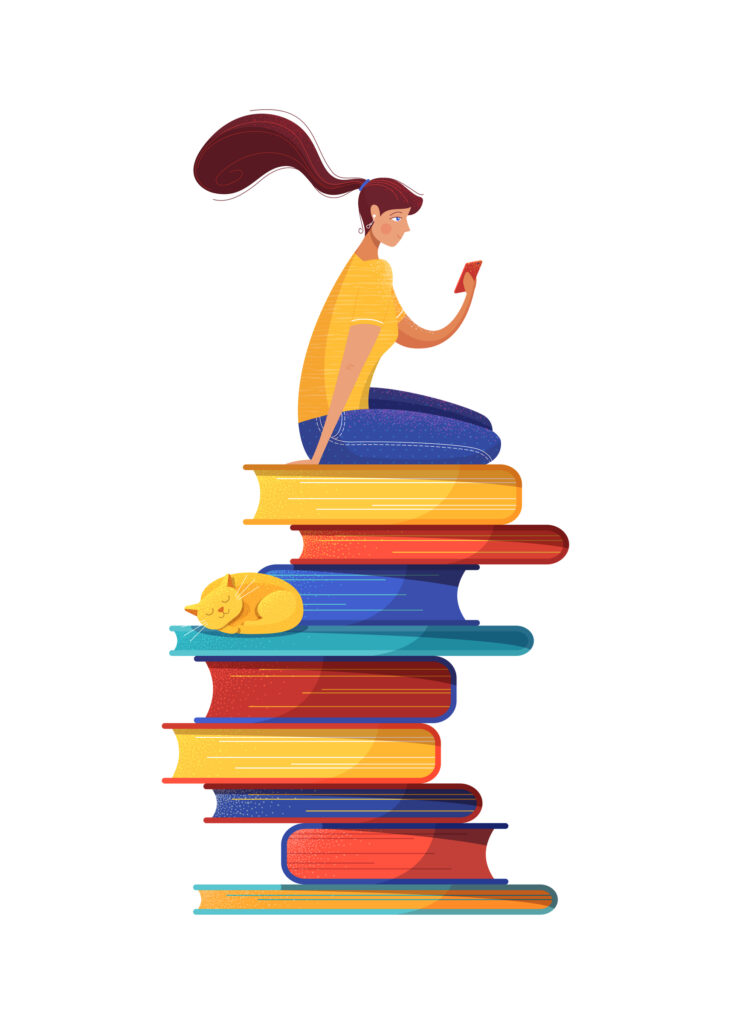 Learning resources are important to any student's development – online students are no exception! Do you need a graphic that represents a virtual library or digital archive? Download this illustration that shows a girl sitting on a pile of books while reading from her smartphone.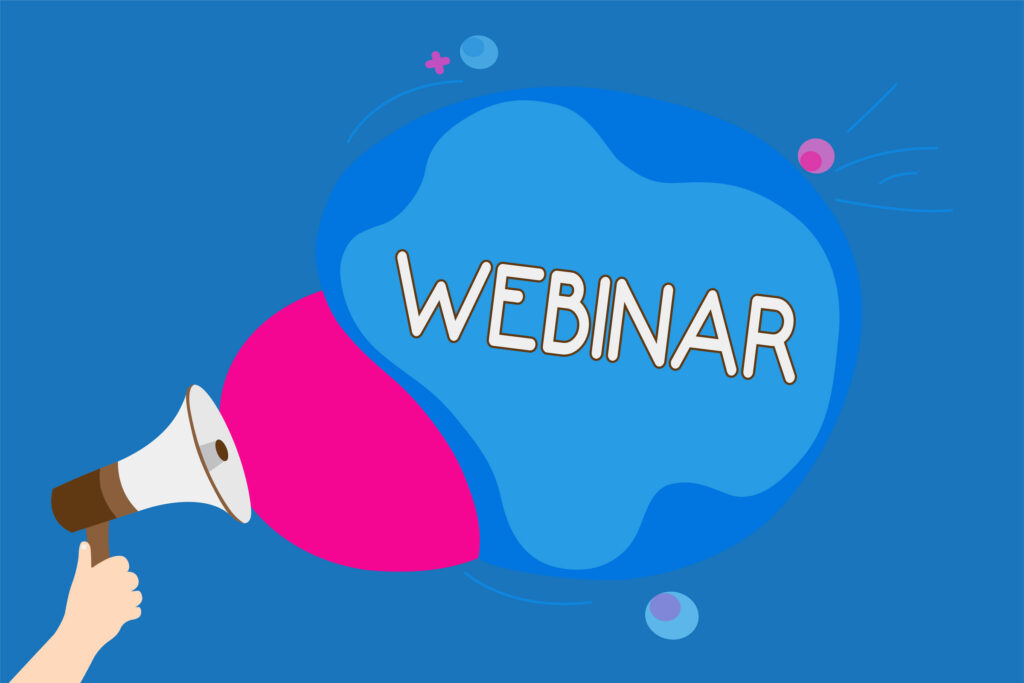 Are you advertising your latest webinar? Do you teach, coach, or consult and need a way to inform prospective students of your course or workshop offerings? Use this text graphic to get the word out!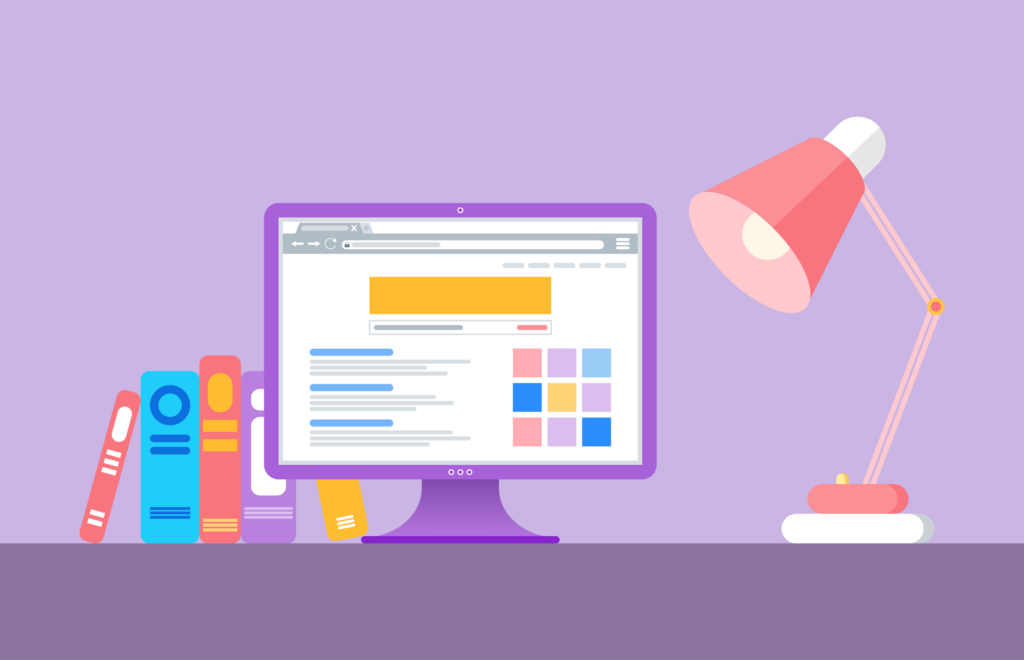 When you teach or learn virtually, your workstation makes all the difference in your ability to concentrate on the tasks at hand. Are you searching for a vector illustration that shows a workspace ready for remote learning? If so, download this image that shows a cool-toned workspace fit for an educational experience.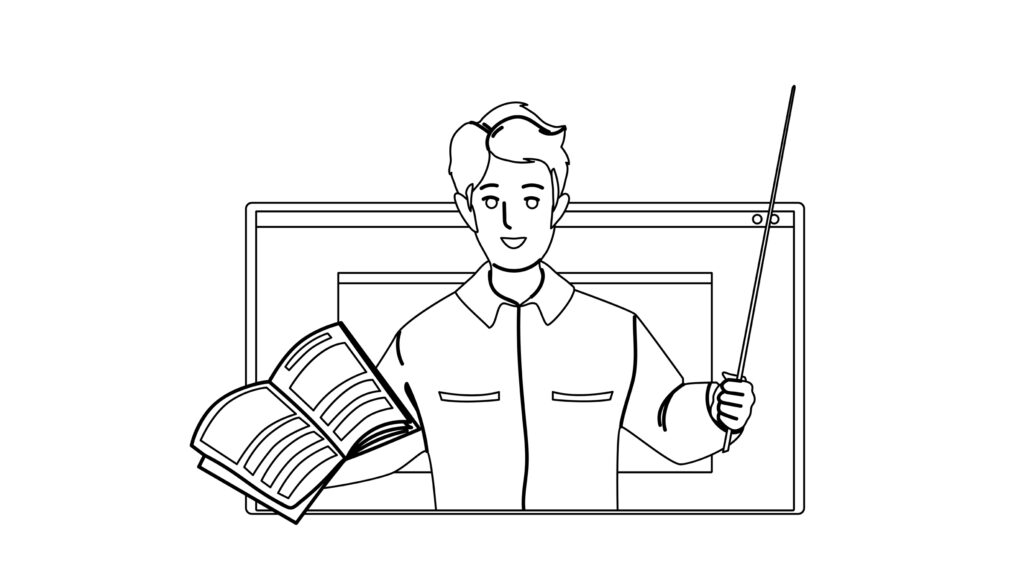 Searching for simple line drawings to illustrate your educational concepts? Here's a minimal line drawing of an instructor explaining a subject – license and download it today!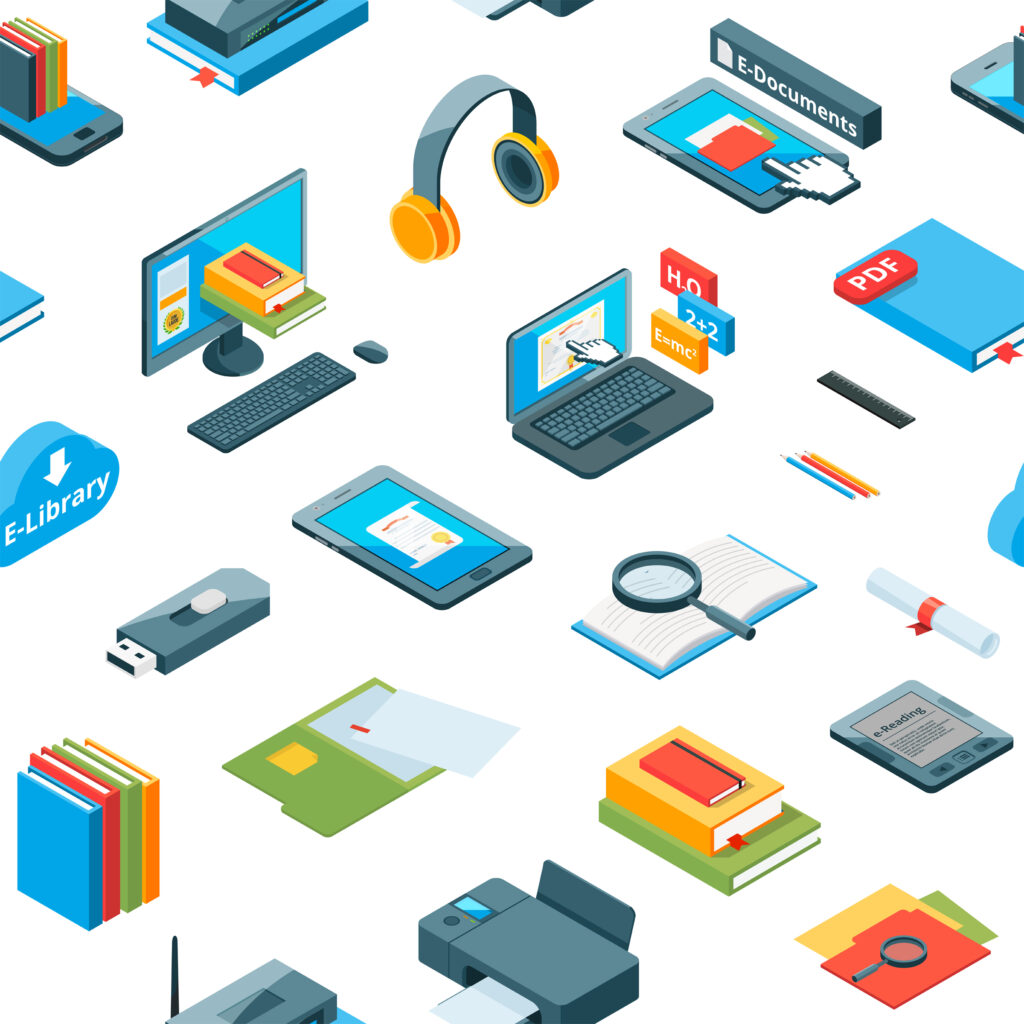 Online education involves much more than a laptop! It can include other forms of technology including desktop computers, flash drives, tablets, printers, and much more! Are you searching for an isometric vector set that encompasses the online education experience? If so, here's a set that includes technology, books, and other relevant icons.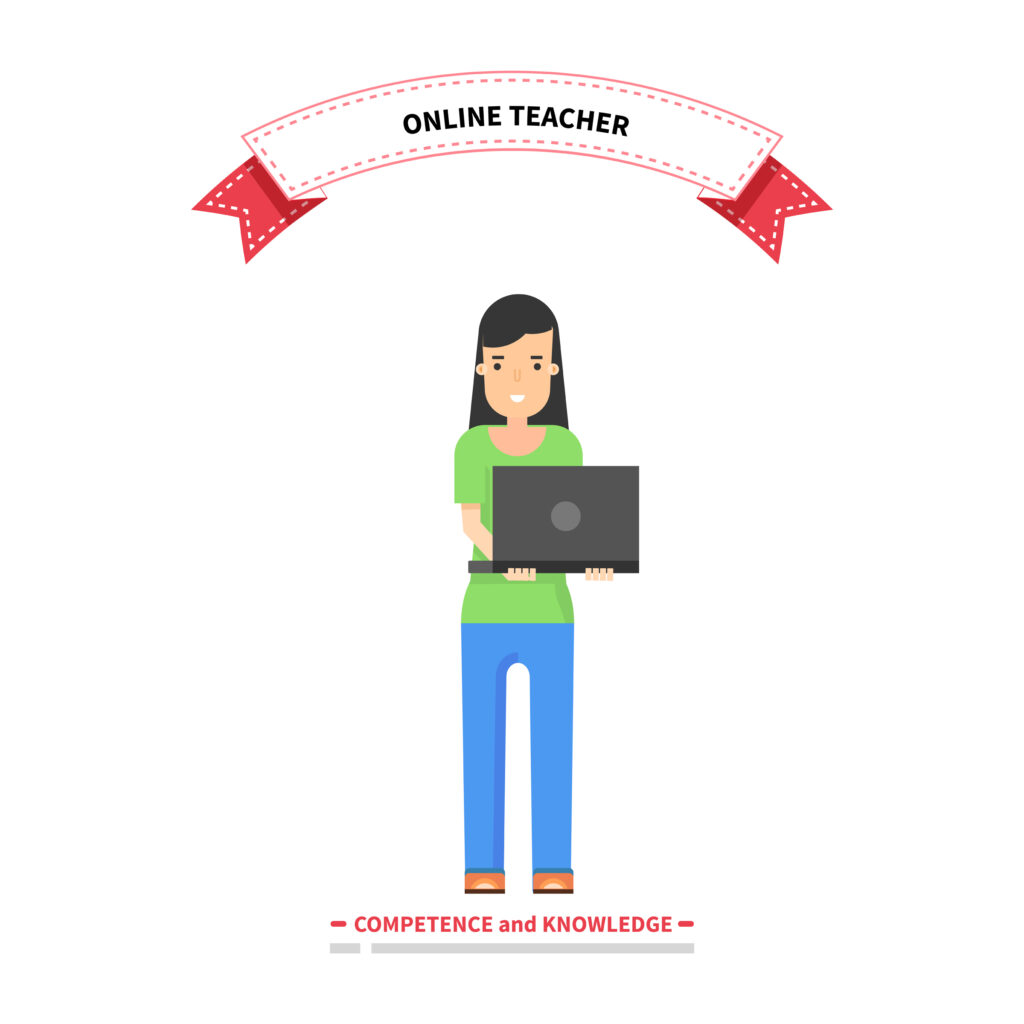 Are you an online teacher? Introductions are very important in the remote classroom. So, introduce yourself with style! Use this vector illustration to set the tone for your virtual class, course series, or workshop!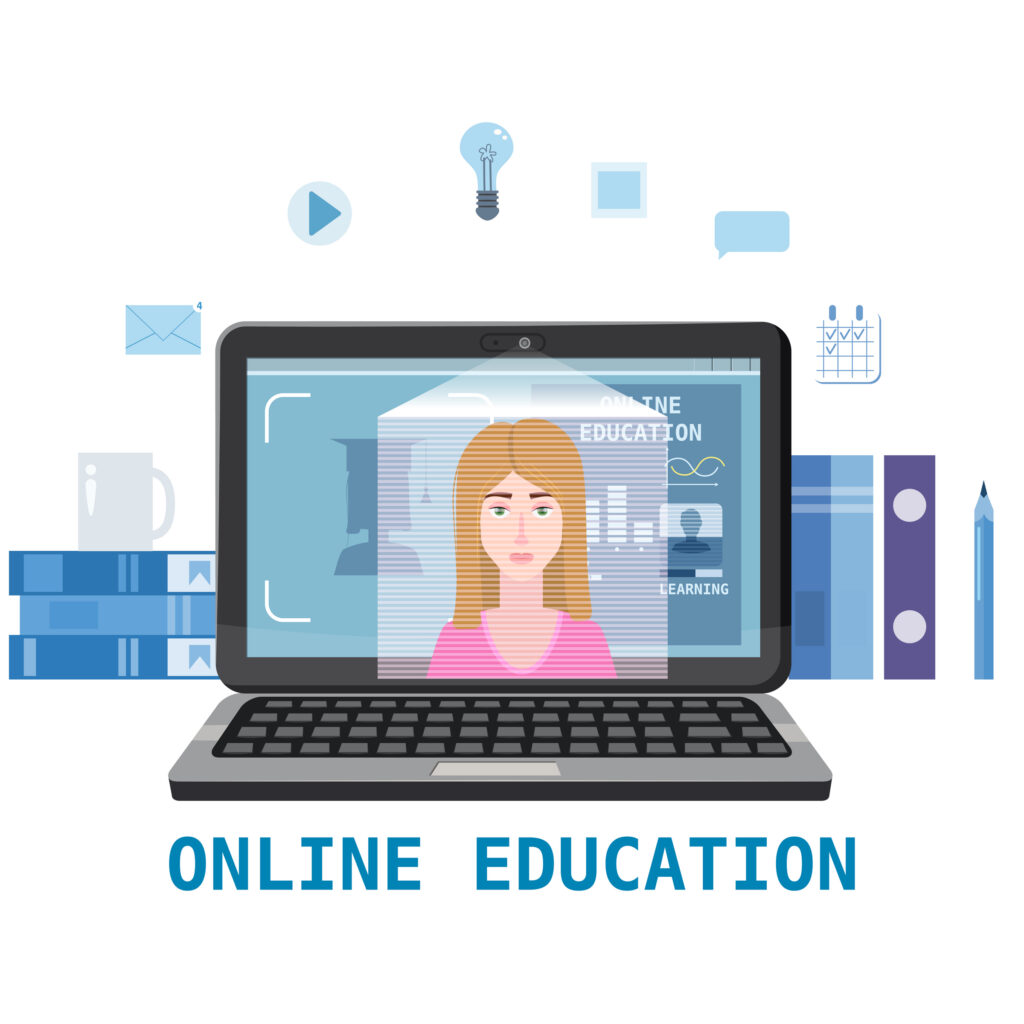 Learning online is an experience that uses the power of technology to bring people together from all corners of the Earth. Do you need a graphic illustration that shows online education at its core? Here's a vector worth downloading!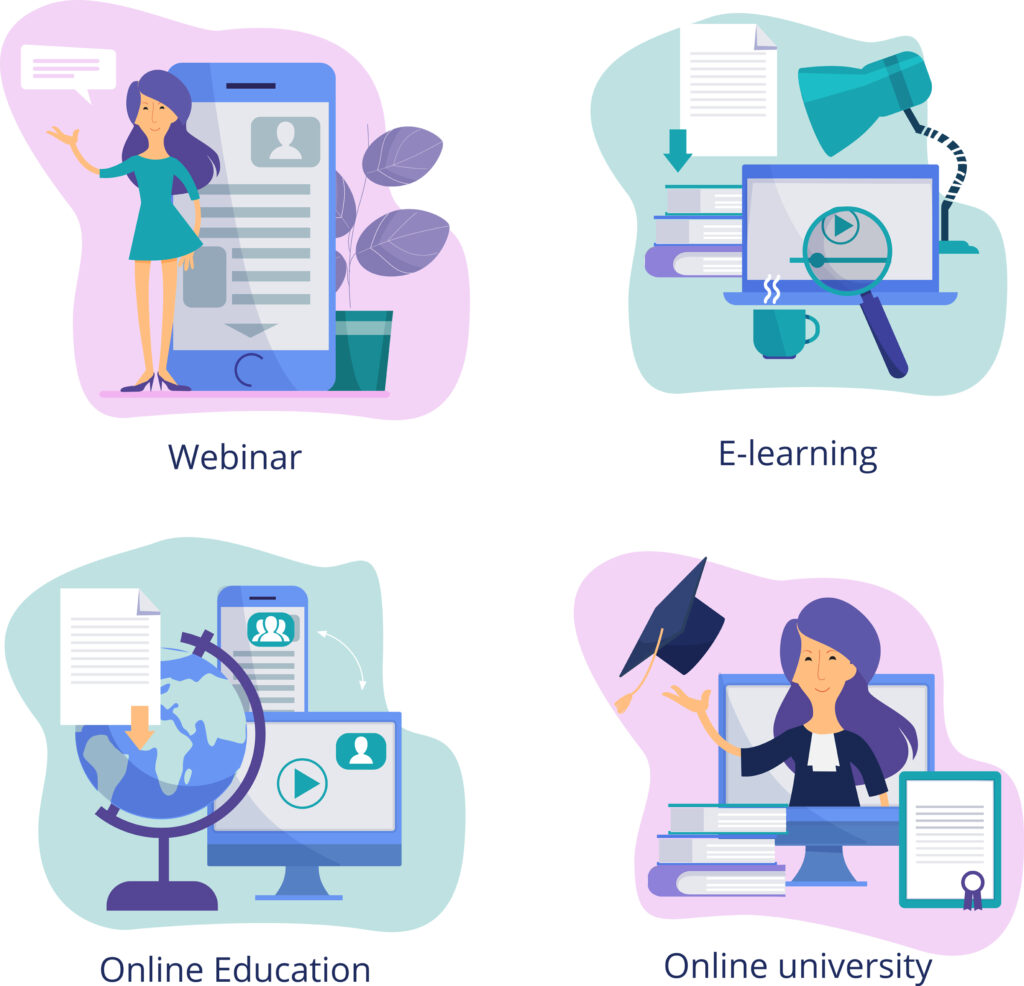 Learning online can be quite a challenge but communicating about distance learning doesn't have to be. You can rely on Clipart for all of your vector illustration needs – like this online vector set featuring four concepts related to distance learning.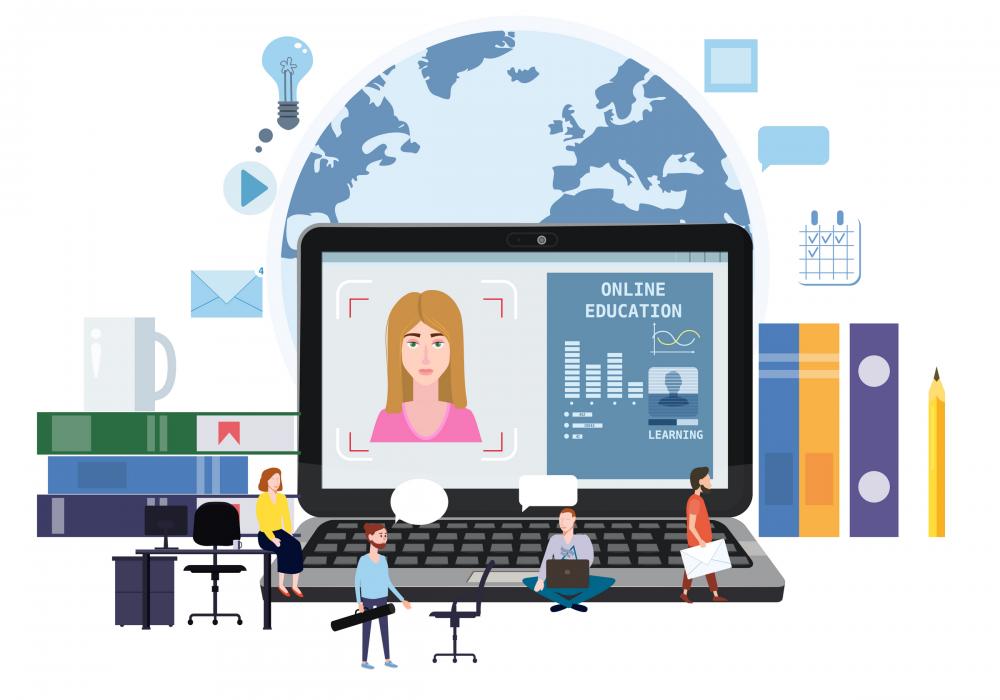 Distance learning allows students and teachers to communicate across the globe. Teaching a webinar? Giving a virtual presentation? You need to download this educational illustration featuring a large computer screen, a globe of the Earth, stacks of books, and students using various learning tools.
How do you advertise your distance learning courses? You likely have a website. Are you looking to update your marketing? If so, download this e-learning landing page template right away.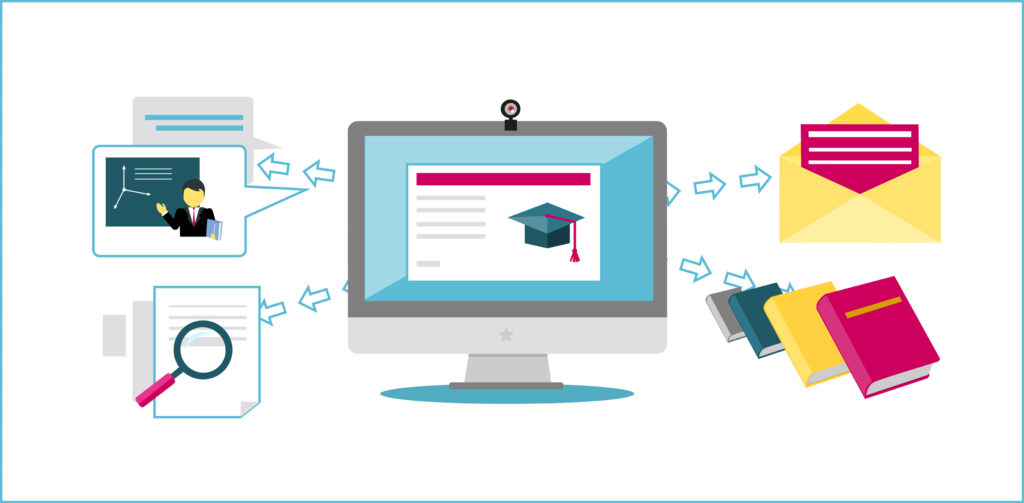 Do you need to explain the ins and outs of online education to prospective students? This comprehensive illustration might just do the trick! With its flat vector design style, this graphic shows how research, learning, communication, and certification happen in the virtual education environment.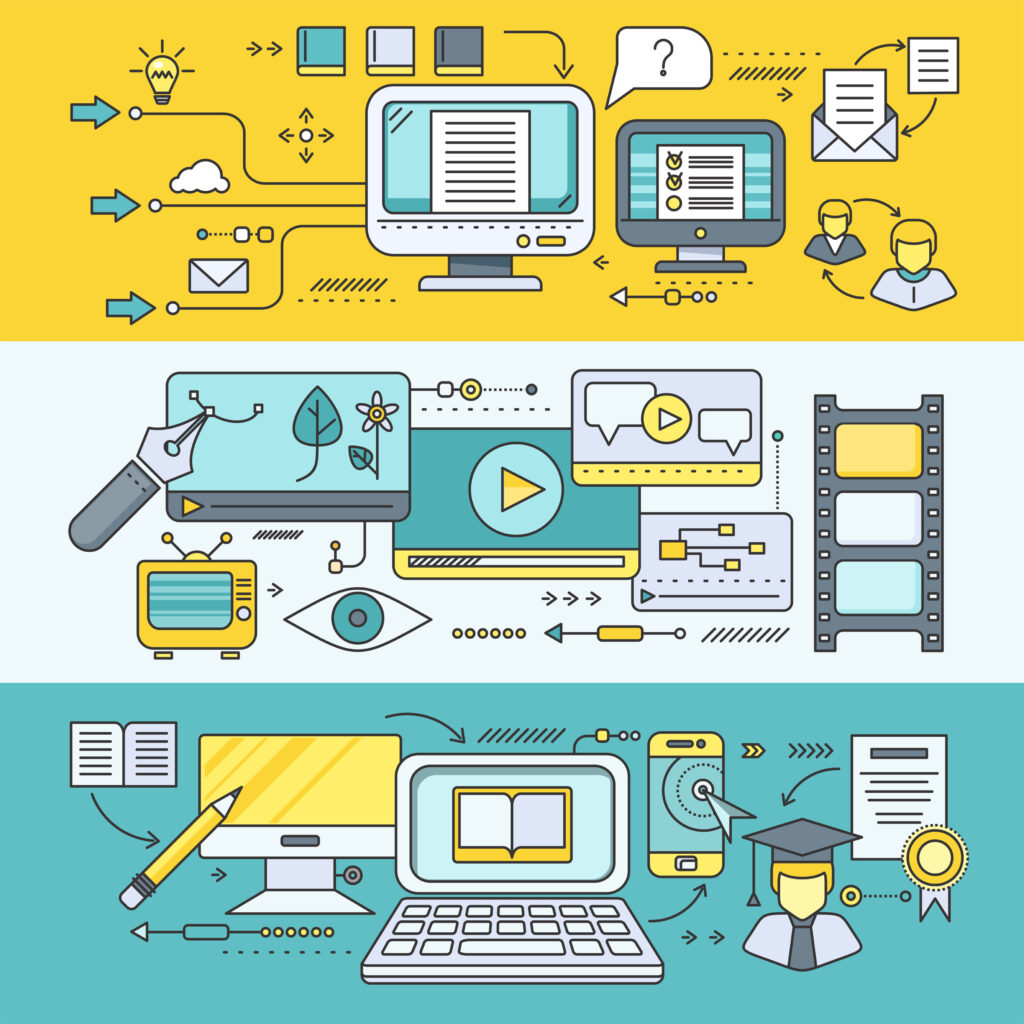 Do you teach media arts, information technology, or other digital e-learning classes that involve research and video presentations? This set of flat icons featuring bold colors and thin lines is perfect for you – download it now!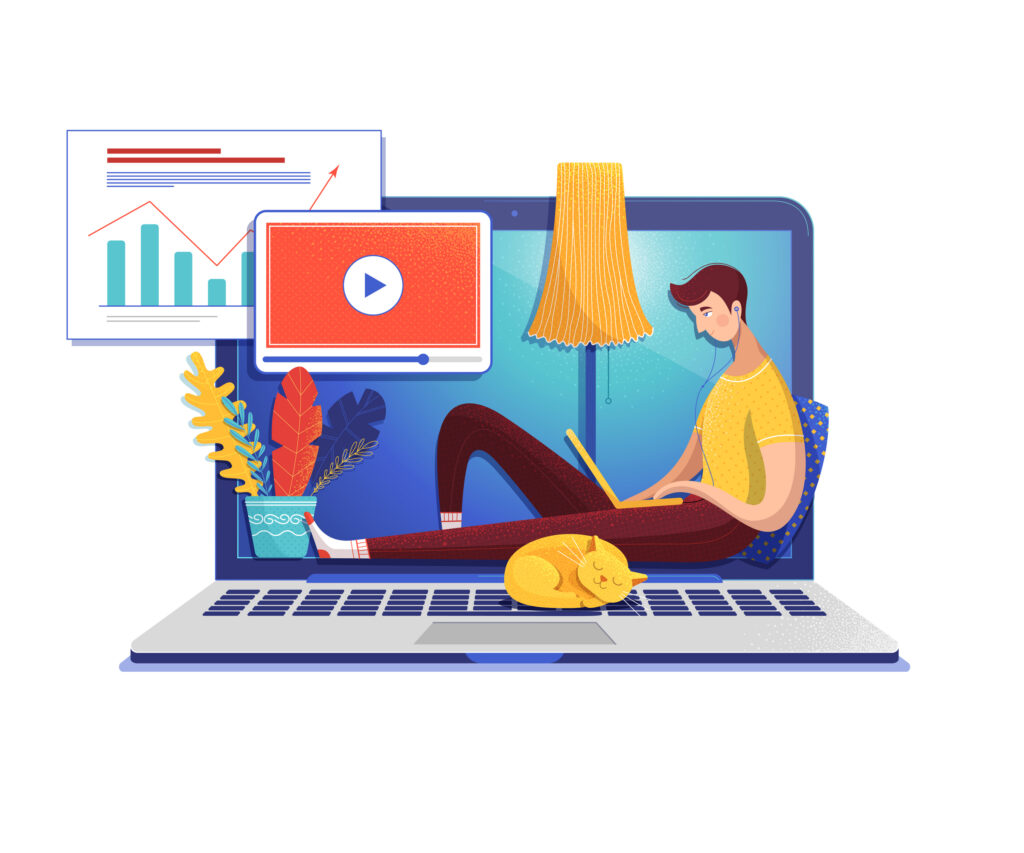 Need to encourage your students to hit the books? Show them how it's done with this fun conceptual vector illustration of a student watching a data analysis video.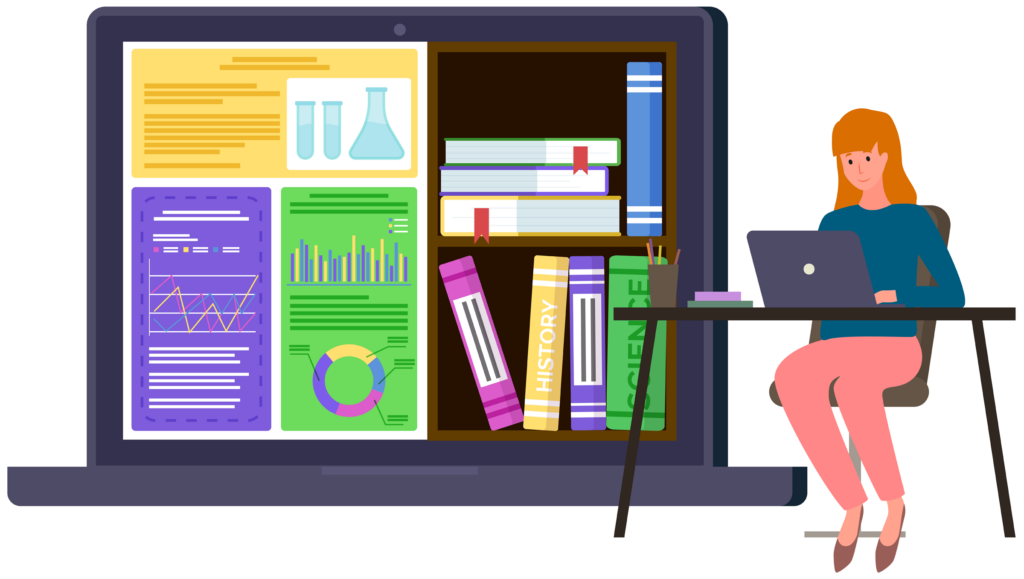 Digital libraries bring the books to you. Isn't that cool? Do you need to inform your students of the learning resources that are available? If so, download this graphic vector illustration of a young woman using the internet to study.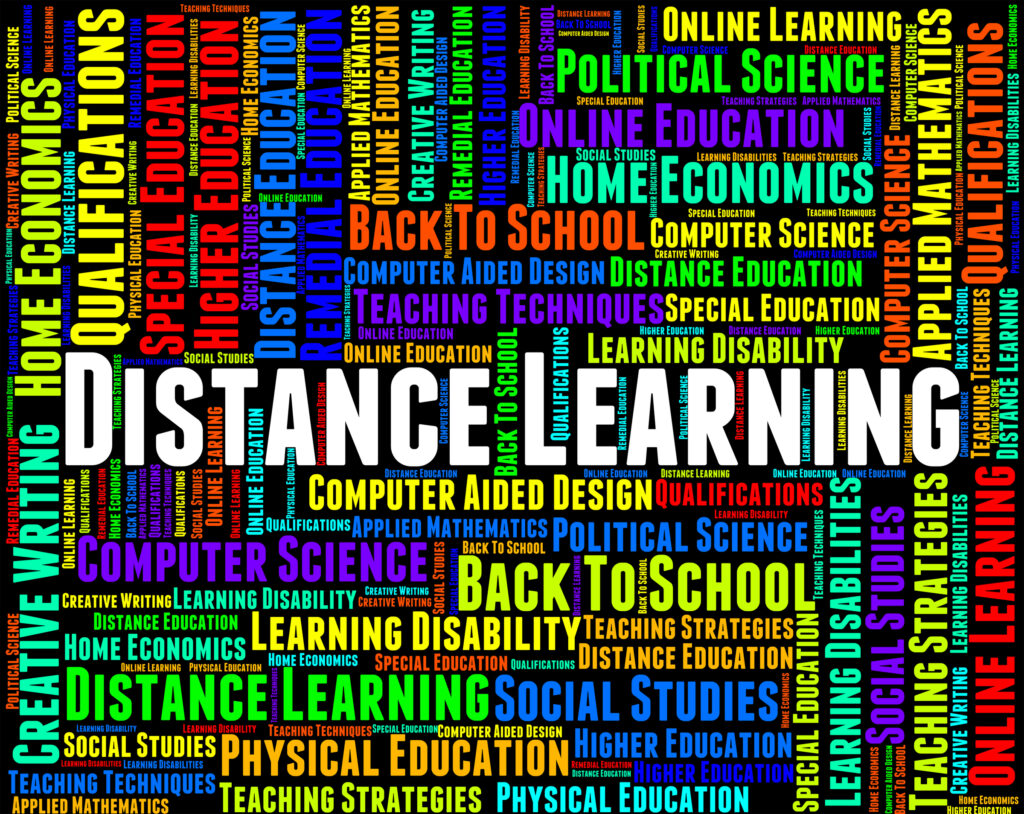 Distance learning can cover a wide range of topics – from political science to education, economics, applied mathematics, and more! And this text graphic covers many of the subjects students and teachers can explore virtually. See your class course listed? Download this right away!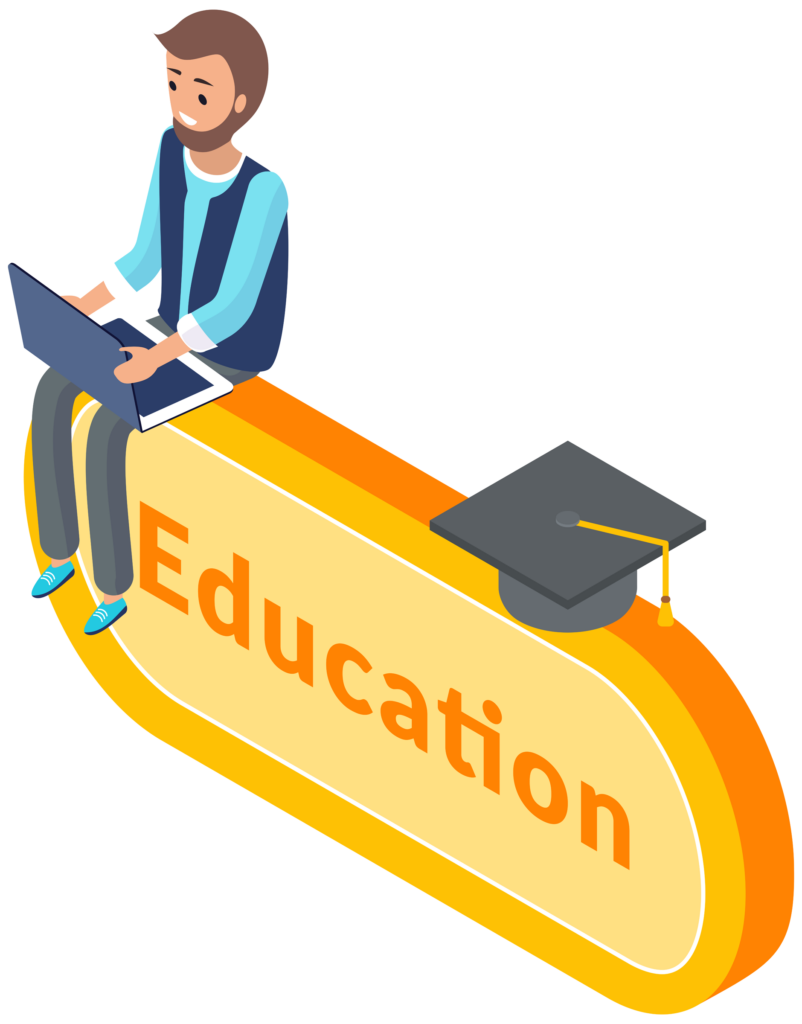 Online education can be empowering. Whether a student is going back to school or simply experiencing virtual learning for their primary education, technology can me learning accessible. So, promote your online education platform with this illustration and fill those virtual desks with students eager to learn!