"Inspiration does exist, but it must find you working."

Pablo Picasso
Are you searching for art and design inspiration? Whether you're working on an art piece or design, or simply want to share some inspiring quotes with your art students; this post is for you! Below you'll find a curated selection of Clipart and 15 inspiring quotes from artists, designers, and other creative professionals.
"Have no fear of perfection – you'll never reach it."

Salvador Dali, Artist
Art is a process that usually starts with a blank canvas and ends in a creation inspired by the artist's imagination. Are you searching for an illustration of an artist drawing an image? If so, look no further! This vector illustration of a top view of hands drawing on a piece of white paper with a pencil just might do the trick!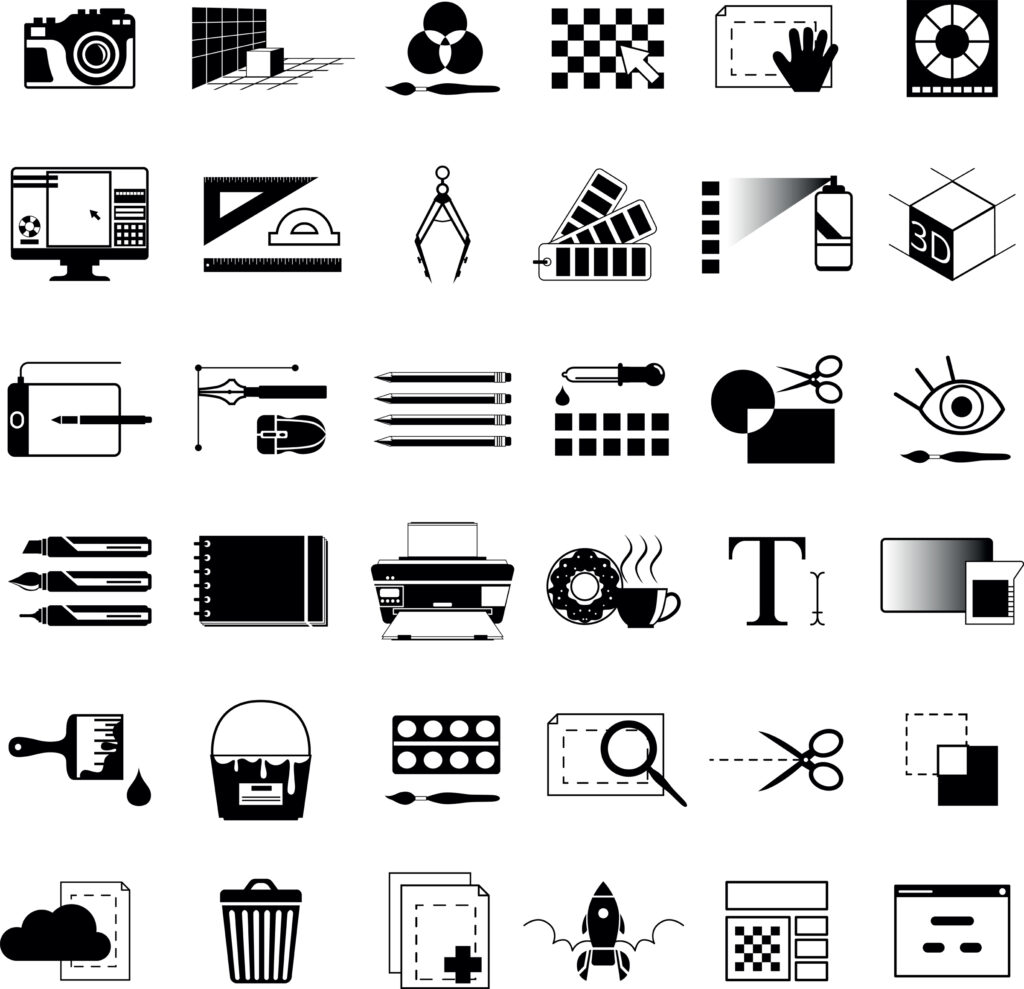 "Everything is designed. Few things are designed well."

Brian Reed, Developer and Musician
Design is everywhere – including this well-designed vector icon set of design tools for creative professionals. This vector set includes a paintbrush, design interface icons, paint palettes, tools, technology, and more! Download it today.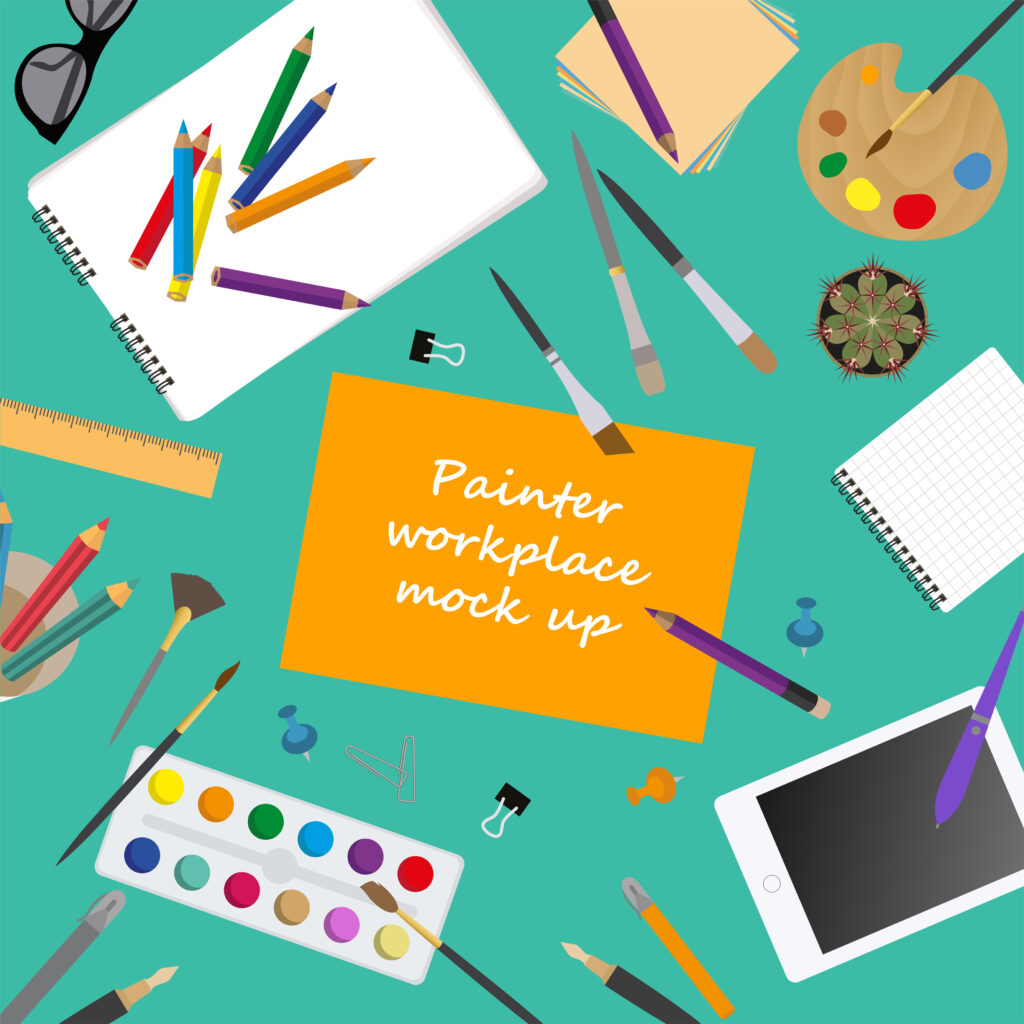 "You can't use up creativity. The more you use, the more you have."

Maya Angelou
Creativity has no limit. Express that sentiment and more when you use this vector mock-up of a painter's workspace that includes paintbrushes, a drawing tablet, grid paper, a sketchbook, pencils, paper, and more.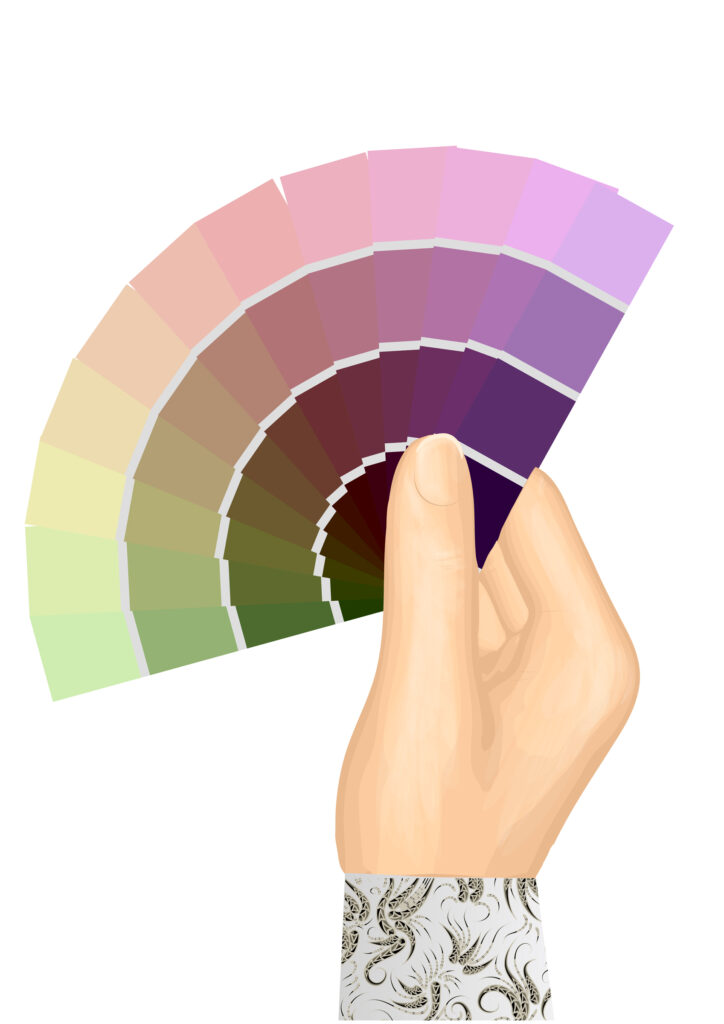 "Design is not a single object or dimension. Design is messy and complex."

Natasha Jen, Designer and Educator
Design encompasses so many things – including paint swatches! Are you looking for an illustration that shows cool-toned color swatches in purple and green hues? This one has exactly what you need!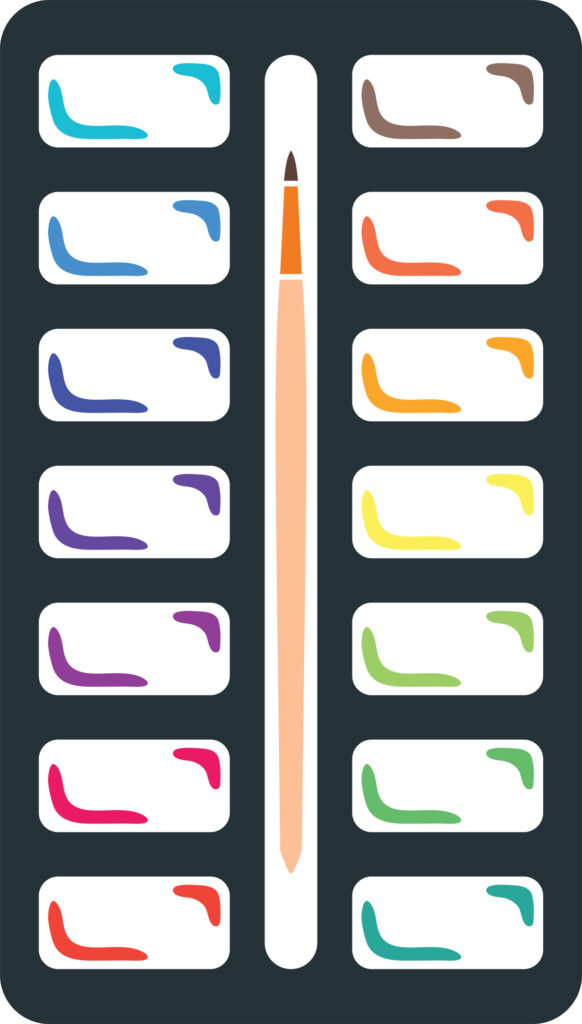 "Design can be art. Design can be aesthetics. Design is so simple, that's why it is so complicated."

Paul Rand, Graphic Designer
Sometimes simple illustrations are the best. Are you searching for vector illustrations of art supplies? This flat icon of a painter's box with watercolor paints and a paintbrush can come in handy!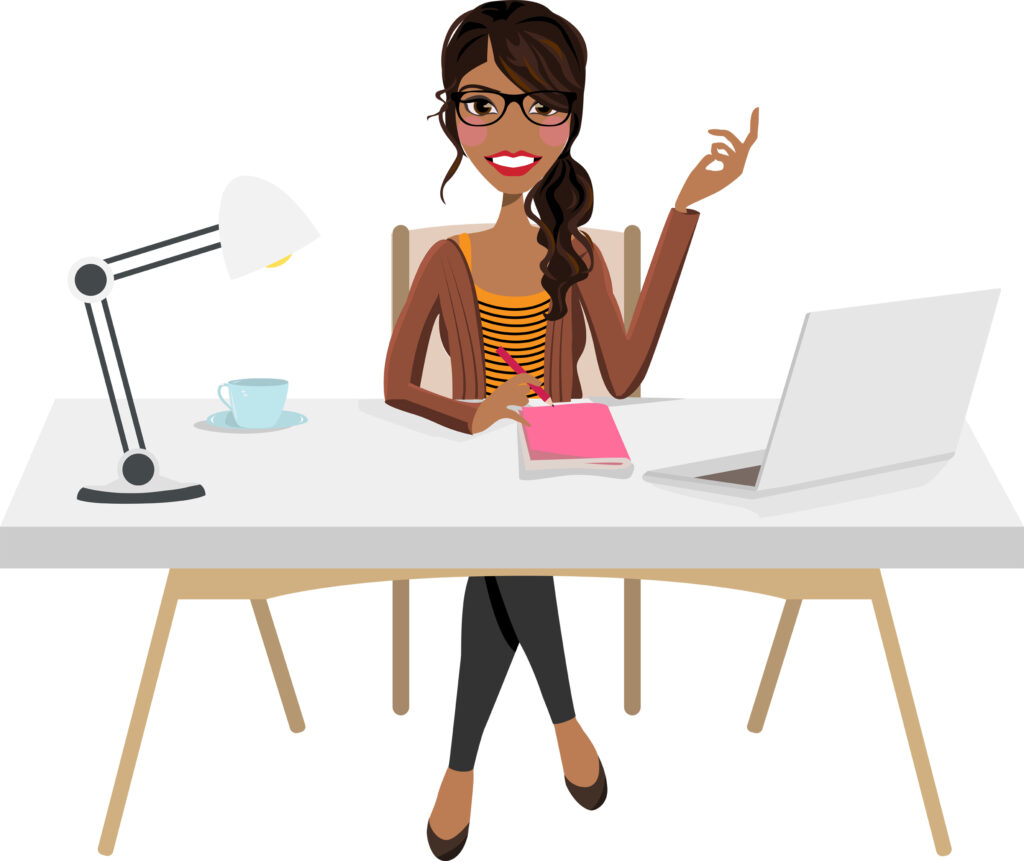 "Designers are meant to be loved, not to be understood."

Margaret Oscar, Designer
For some designers, the only tool they need is a computer. Are you looking for an example of a designer at work? This clipart illustration of a young female designer working at her desk with a laptop and cup of coffee can be used for a plethora of projects.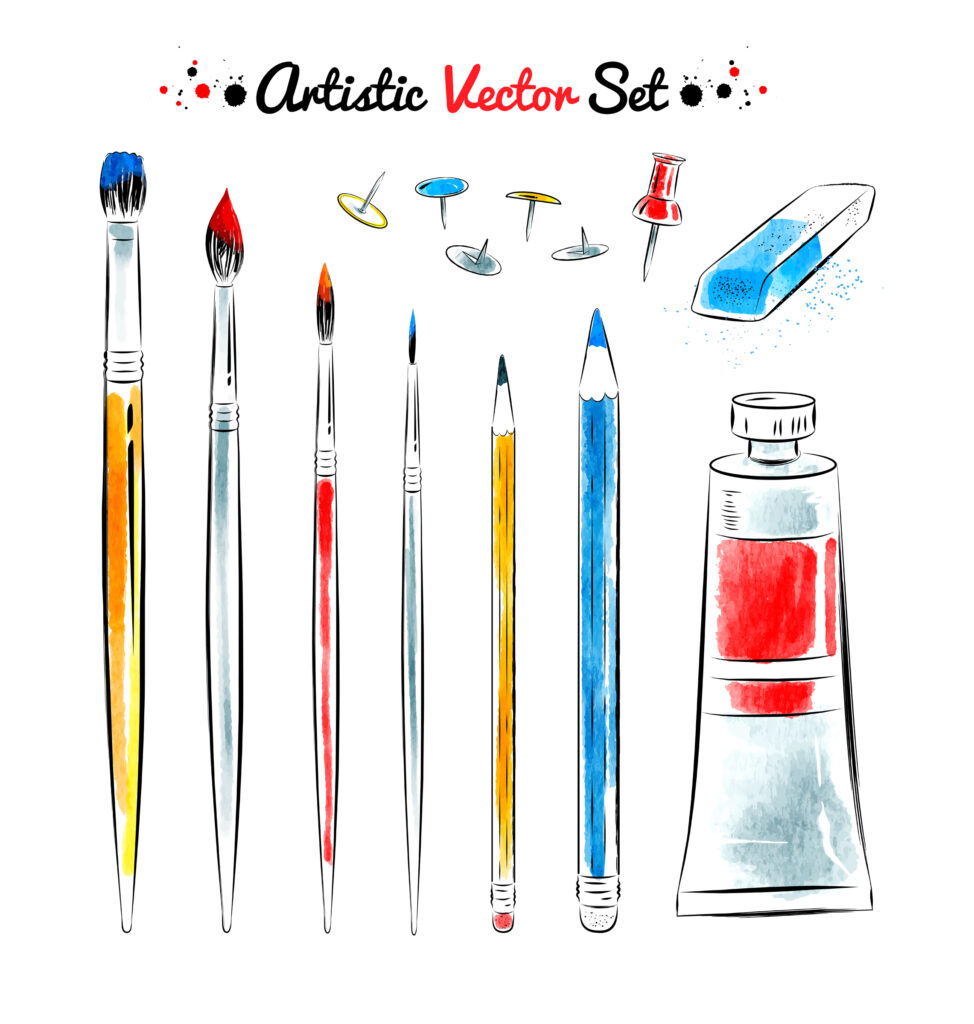 "Art is coming face to face with yourself."

Jackson Pollock, Painter
Art supplies help artistic folks express themselves in a variety of ways. Are you looking for vector icons of art tools that you can use for your classroom? This set can be used for creative projects, art supply lists, and more.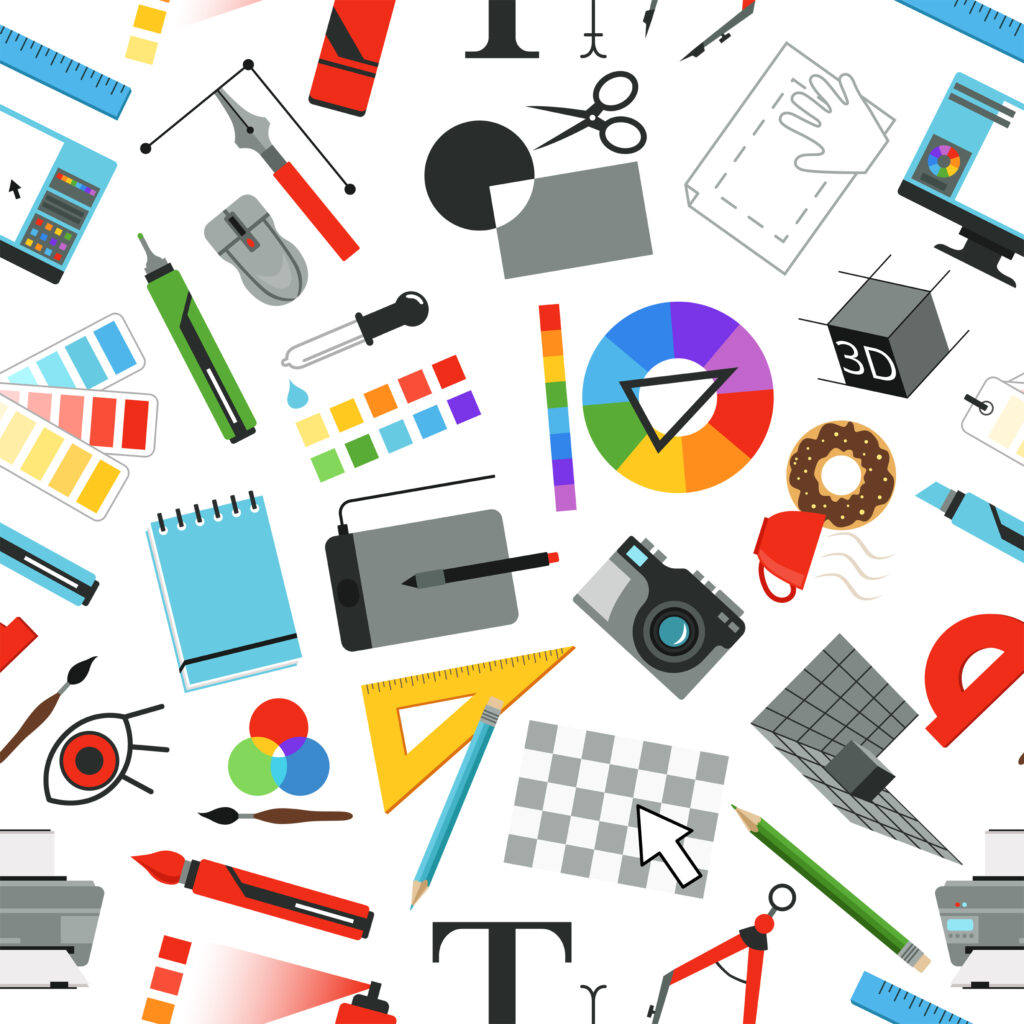 "Art is not what you see, but what you make others see."

Edgar Degas, Painter
Are you searching for seamless patterns that relate to art and design? This vector pattern includes RGB color symbols, typography icons, protractors, pencils, cameras, and more art and design icons.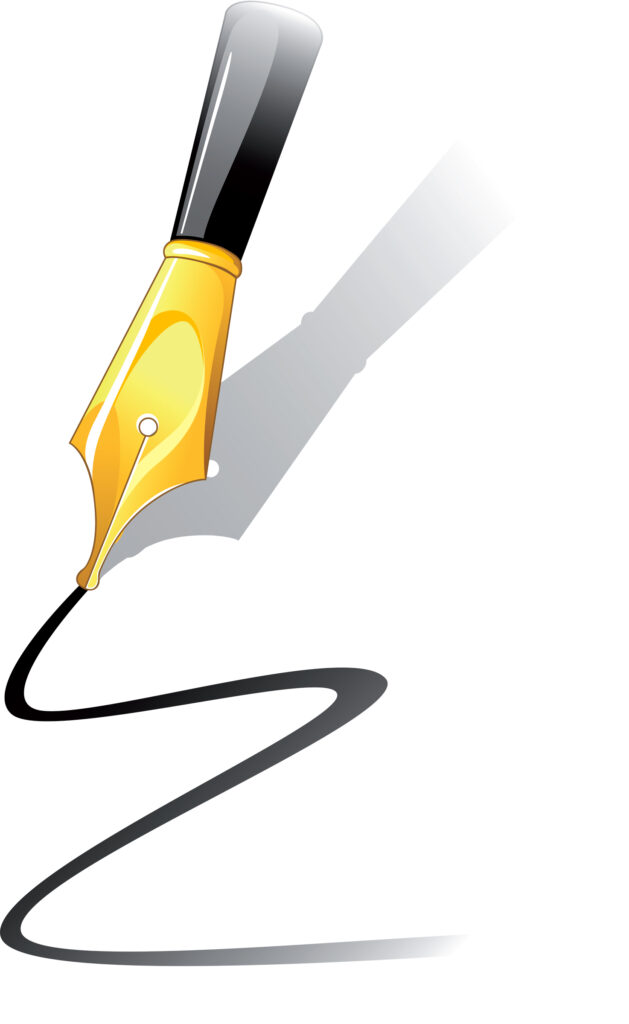 "Art is never finished, only abandoned."

Leonardo da Vinci, Artist and Inventor
Calligraphy is a work of art using words. Are you looking for an icon that shows calligraphy in action? This illustration of a black and gold fountain pen writing a curved line can be used for a variety of things.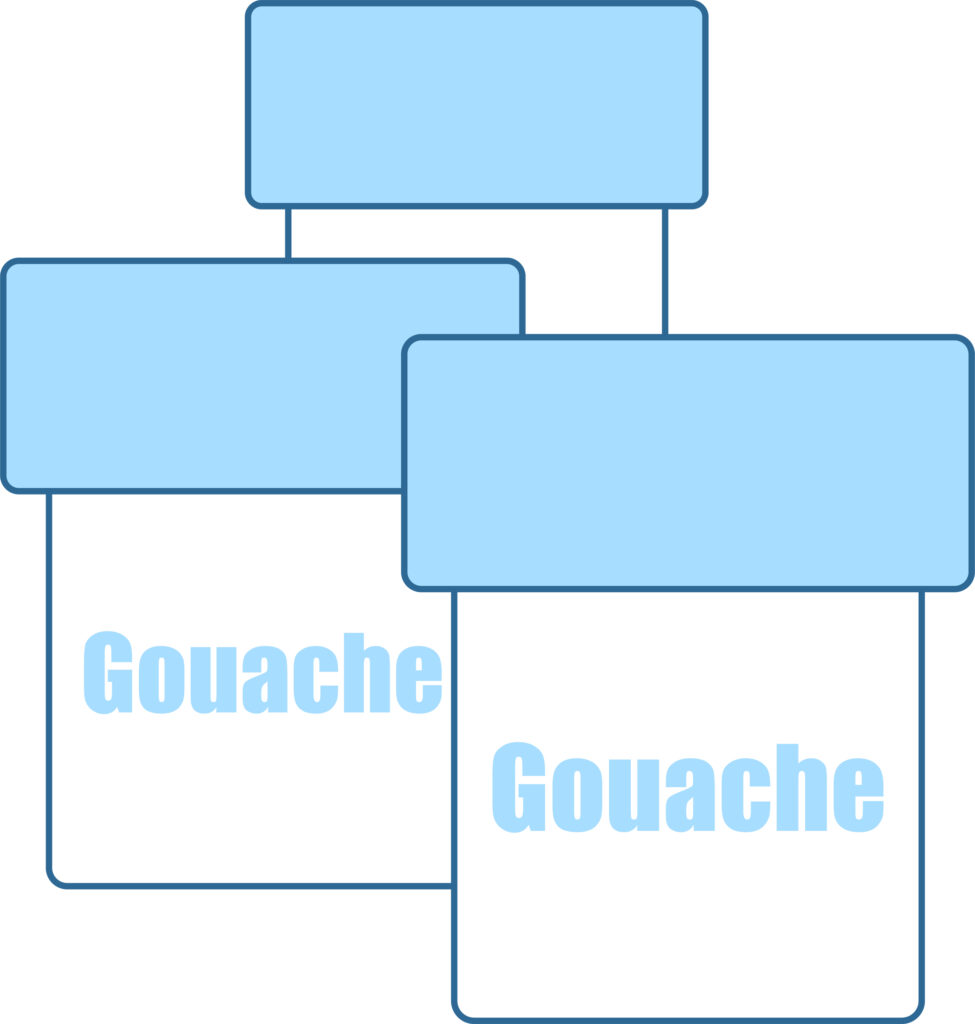 "Art is the lie that enables us to realize the truth."

Pablo Picasso, Painter
Are you a painter? Do you teach a painting or art history class? If you answered yes to either of those questions, you may find this illustration useful – it features a thinly outlined icon of gouache paint before.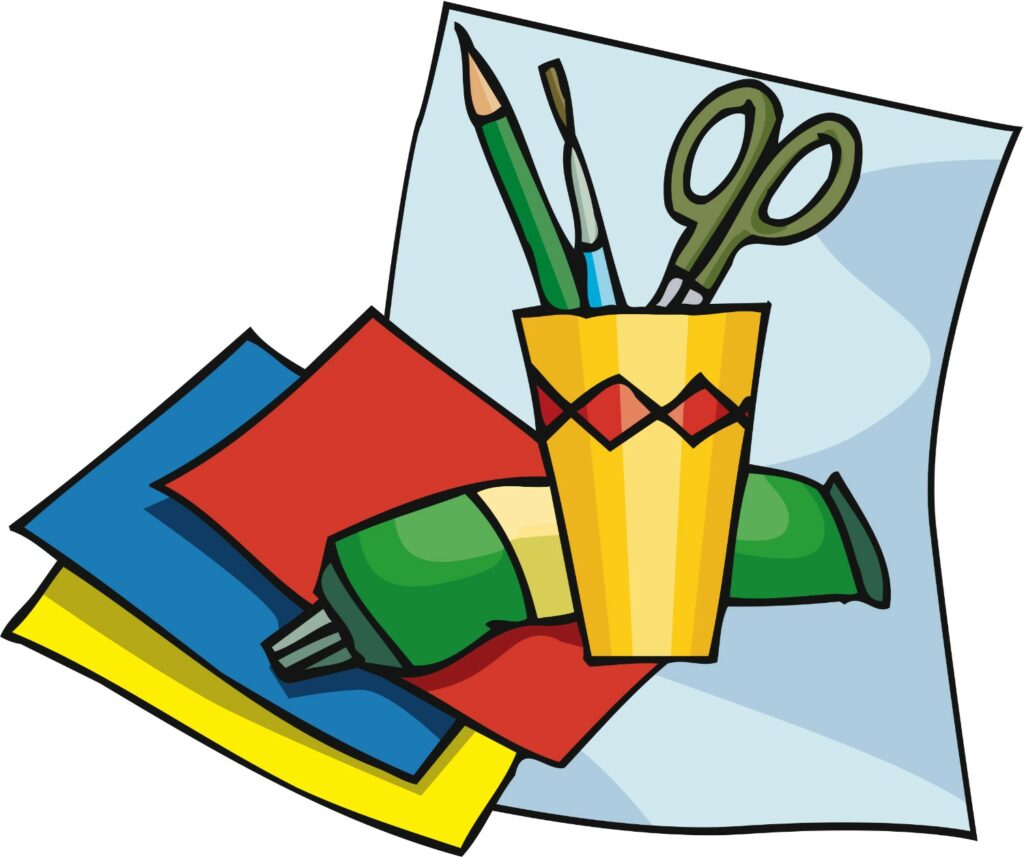 "Art is standing with one hand extended into the universe and one hand extended into the world, letting ourselves be a conduit for passing energy."

Albert Einstein, Scientist and Inventor
Art supplies make art possible. And this clipart illustration of basic art supplies in primary colors can be used for art classes, seminars, presentations, and more.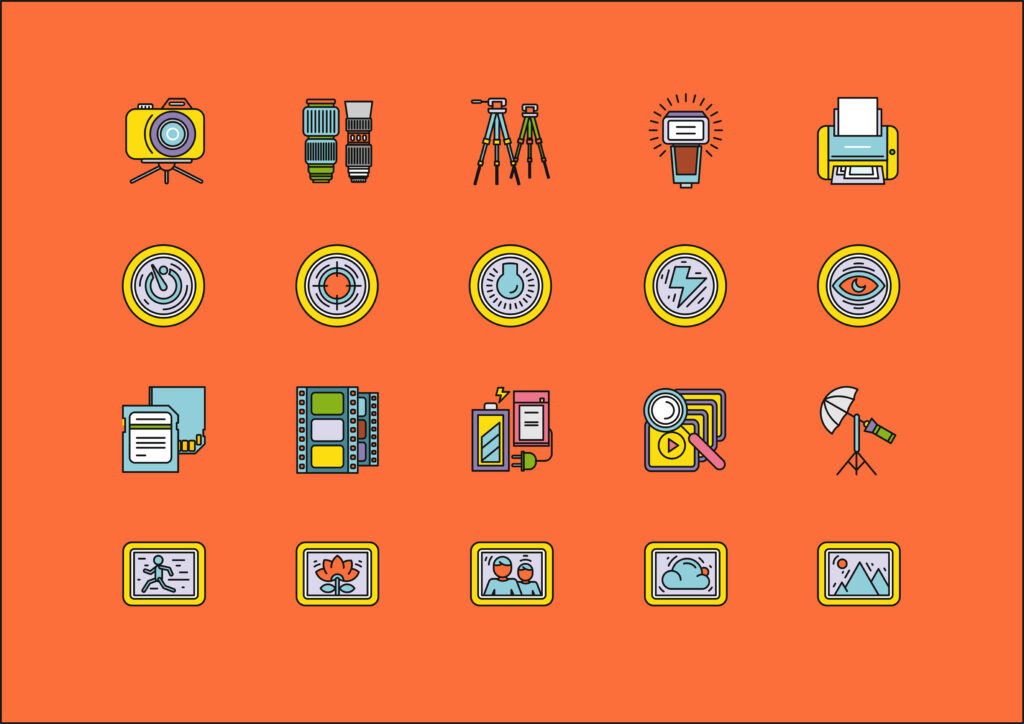 "All art is a kind of confession, more or less oblique. All artists, if they are to survive, are forced, at last, to tell the whole story; to vomit the anguish up."

James Baldwin
Photography is an art form that many use to express themselves. Are you searching for icons of photographic equipment? This set has illustrations of film reels, floppy disks, camera lenses, lighting, and other things related to photography.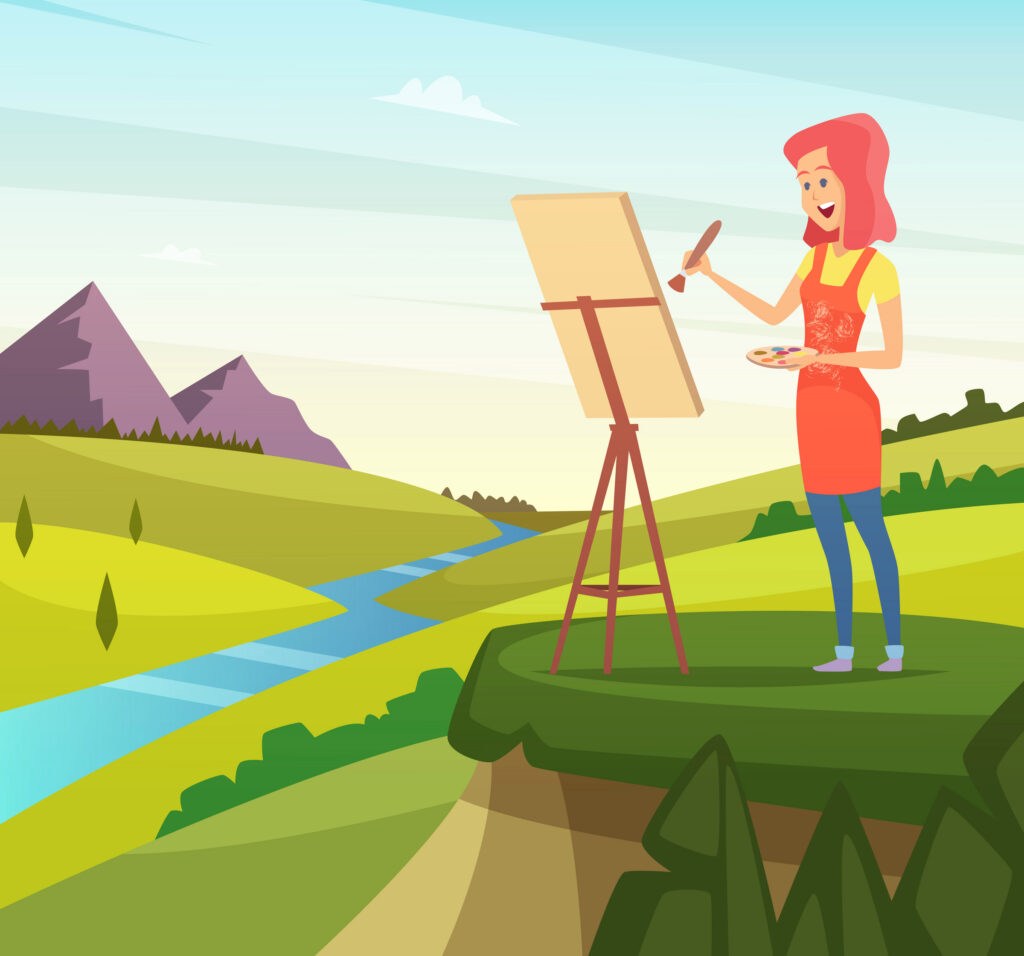 "Every portrait that is painted with feeling is a portrait of the artist, not the sitter."

Oscar Wilde, Author
Artists use a variety of tools to create their work. Painters, in particular, use paints, canvases, and easels to create works of art inspired by nature, cities, people, and everything in between. Use this vector illustration to discuss the nature of making art and what inspires artists.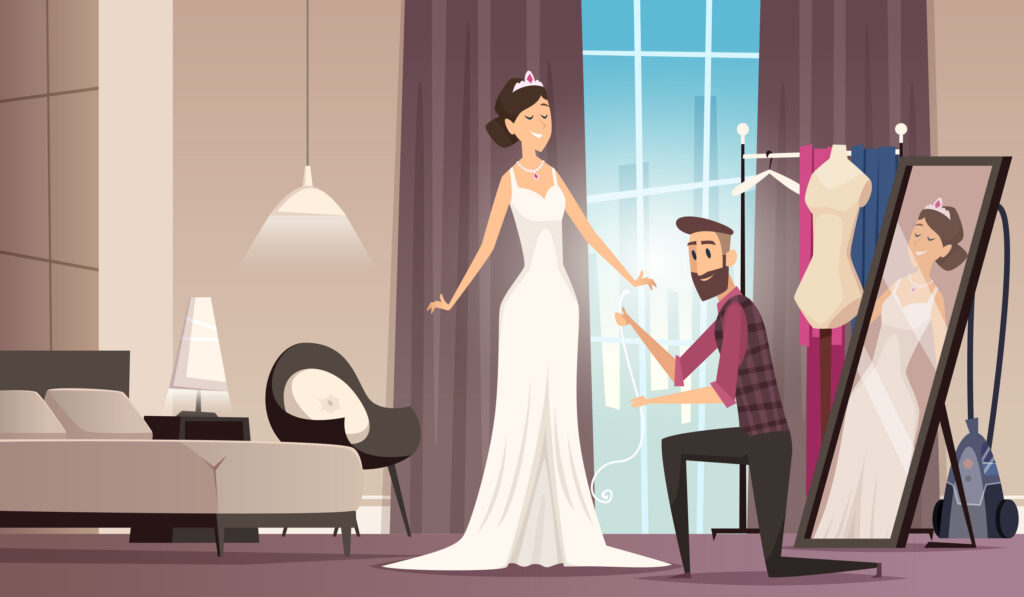 "The aim of art is to represent not the outward appearance of things, but their inward significance."

Aristotle, Philosopher
Designers create things that people enjoy and interact with on a daily basis – that includes fashion designers! Are you looking for vector illustrations of fashion designers at work? This drawing shows a designer altering a wedding gown for a bride-to-be.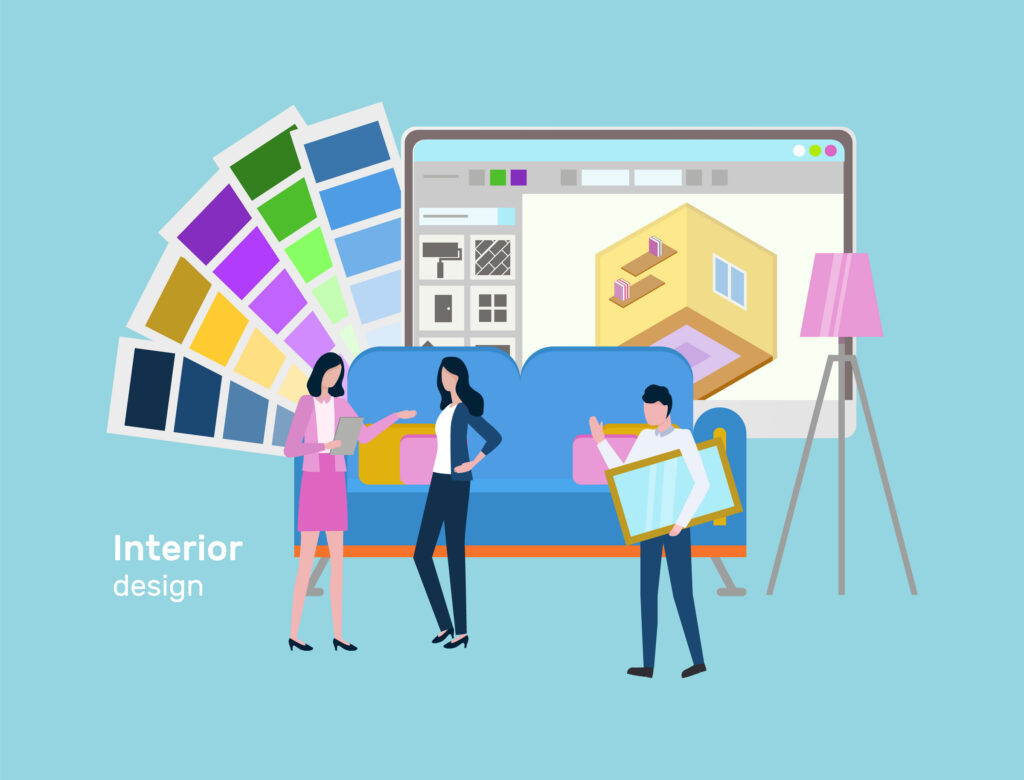 "Everything starts from a dot."

Wassily Kandinsky, Artist
Different designers require different tools. For interior designers, that could be color swatches and computer software – like in this vector illustration of interior designers discussing plans with a client.