Are you searching for spooky season activities to share with your students or homeschooled children? If so, you're in the right place! After all, Halloween fun isn't limited to trick or treating. There are tons of Halloween crafts and creative ideas you can explore with your kids. Not sure where to start? No worries! Just keep scrolling…below you'll find 10 spectacularly spooky activities to share with your class and a Halloween coloring page you can download for FREE.
In this post:
10 Frighteningly Fun Things to Do With Kids During Halloween
Monsters, witches, ghosts, oh my! Finding a kid-friendly halloween activity can take a bit of research. Luckily, we have you covered! From scavenger hunts to helping kids tune their fine motor skills with coloring pages, there are many Halloween activities to engage in! Keep reading.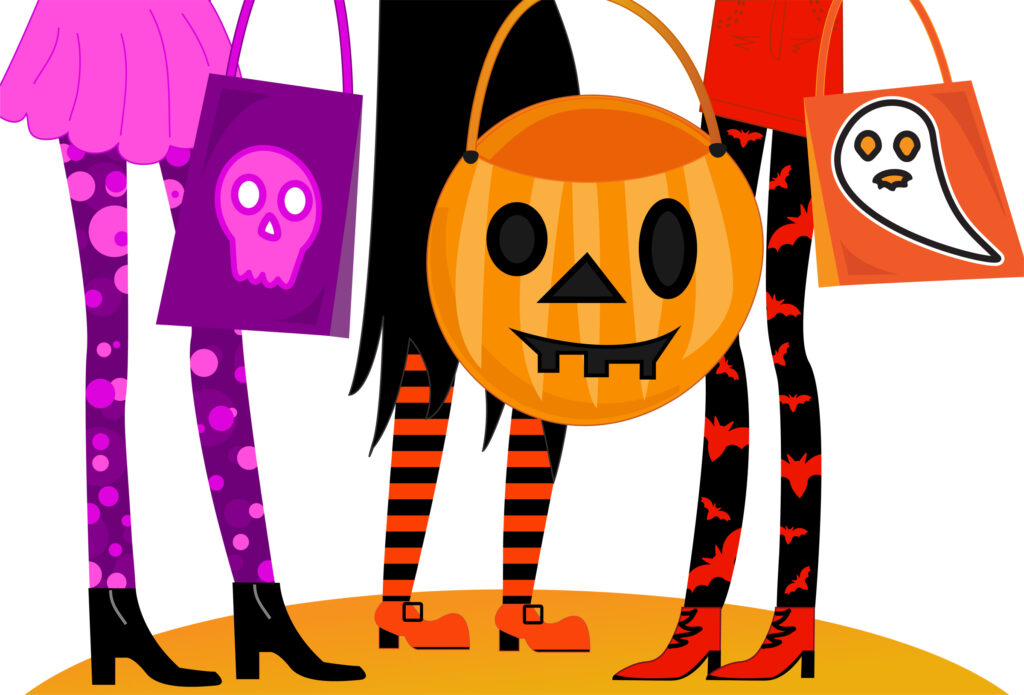 1. Make Skeleton Art With Sticks, Straws, or Pipe Cleaners
Skeletons are all the rage during spooky season. So, why not incorporate skeletons into your lesson plans? Teachers and homeschooling parents can take this opportunity to give a brief lesson on the human skeletal system or use it as art lesson – exploring color, shading, and the human form in the process!
2. Add a STEAM or STEM Lesson by Building Candy Structures
We've talked about the benefits of STEAM & STEM activities before. They are, undoubtedly, some of the most immersive ways to educate children. So, why not make this Halloween a bit more STEM-focused. To do so, you can have your class or children engineer structures using chewy candy and wooden toothpicks. Alternatively, you can use marshmallows or another gummy treat. To take it a step further, try to relate the activity to architectural practices or physics.
3. Watch an Educational Halloween or Harvest Season-Themed Movie
It's no secret that many households around the world celebrate Halloween. But finding educational content to add to the festivities, can prove to be a difficult for teachers and parents alike. But it's not impossible. Resources like WeAreTeachers.com have a curated list of educational Halloween videos and more can be found on Youtube! So, consider streaming some smart & spooky content for your class or kids.
4. Use Halloween-Themed Writing Prompts
Do you teach English or creative writing? Or, perhaps, you're a parent looking for fun and educational ways to engage students during this season. Either way, consider introducing Halloween writing prompts. If you're not sure where to start, use the following prompts to get started:
Encourage imaginative thinking: Inspire your students or homeschooled children to think about a Halloween costume from the year 2075. What would it look it? Would a witch or ghost costume enable human flight? What potential technologies could be incorporated in a futuristic, spooky season look? Remember, the goal is to encourage students to tap into their imaginations and prior knowledge to imagine something that does not yet exist.
Take a cultural perspective: Ask your students to write about how they celebrate Halloween or harvest season* – You can use questions such as: What family traditions do you have to celebrate this time of year? How do you typically spend the fall and winter months outside of attending school?

*please keep in mind that not every student celebrates this holiday and more generic prompts may have to be used to accommodate them.
5. Read a Halloween or Autumn-themed Book As A Class
Trying to get the entire classroom involved in a holiday-themed activity? It can be hard to come up with ideas that engage every student – especially for those working with large classes. One idea you can explore is to read a book aloud as a class. If you work with small kids, you may want to read to them and have them repeat the sentences aloud, line by line. If you are working with students with advanced reading and comprehension skills, you may want to assign pages for kids to read – either in small groups or individually, depending on the length of the text.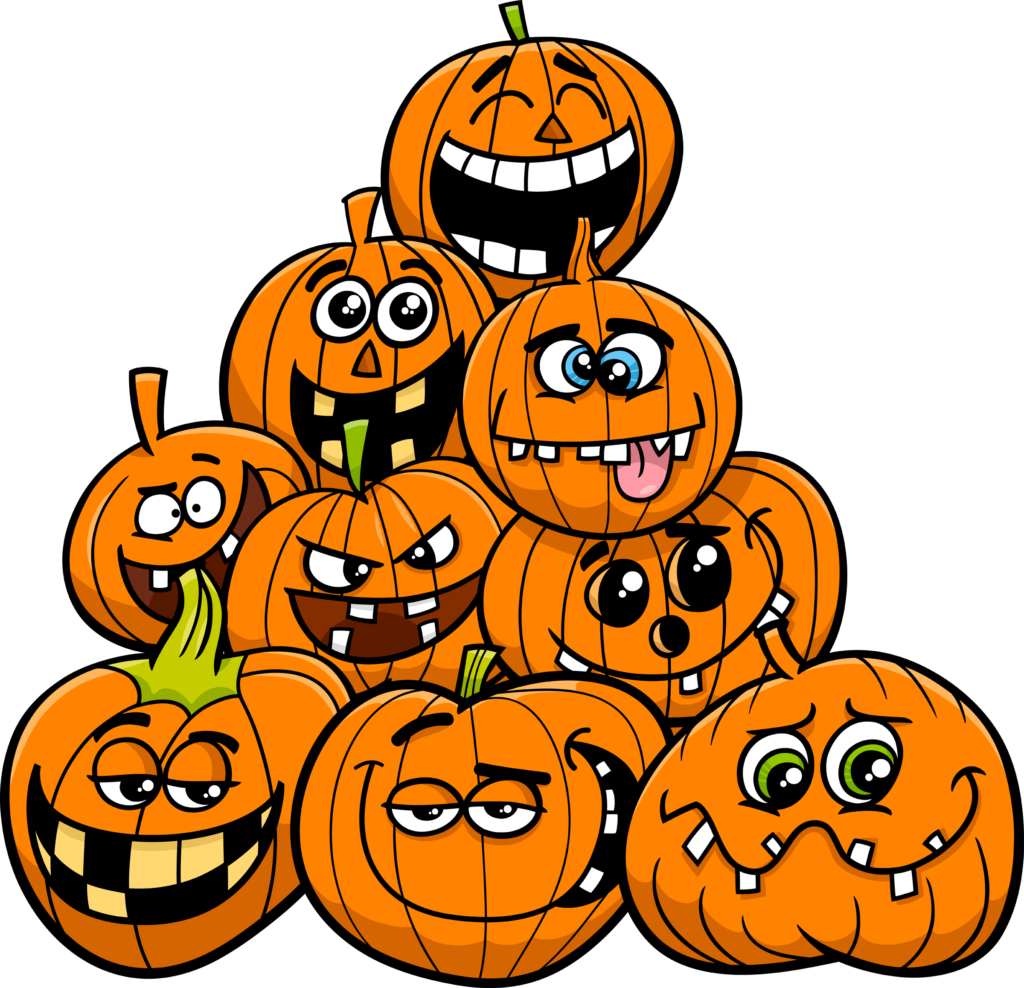 6. Carve Pumpkins or Cut Them Out of Construction Paper
Who says carving pumpkins can't be educational? Encourage kids to be creative and have fun with jack o lanterns. After all, it can be one of the most fun activities for kids of all ages. If carving pumpkins simply isn't feasible for you kids, have them create or cut pumpkins out of construction paper.
7. Draw Spiders Then Decorate The Classroom With Them
Get in the spooky season spirit and teach a lesson about arachnids if you so desire. Students can be informed about the anatomy of a spider, its classification and any other fact you'd to share. Then have a bit of fun! Encourage students to draw a spider – let them add costumes to their drawing if they like. Then use their drawings to decorate your classroom.
8. Create a Halloween Word Search
Get creative with your class and make a mega-spooky word search. This can be created using large sheets of kraft paper, newsprint or poster boards. (Or using your computer and printed out on paper). The goal is to use Halloween themed words and rearrange them in puzzle for students to solve.
9. Use Candy As A Narrative Writing Prompt
If you'd like to engage students in a writing assignment, without talking about Halloween directly, consider using candy as a writing prompt. After, all the average kid has probably had a piece of candy. This can be a narrative piece about the life of a piece of candy (from store shelve to a kid's pocket) or anything, really – encourage imaginations to run free.
10. Halloween Coloring Pages
When in doubt, download halloween coloring pages for kids! Coloring pages are a simply way to keep little ones engaged while having fun and honing fine motor skills. Not sure where to find one? Keep scrolling!